Jillian Michaels Covers Redbook With Picture of Herself as 175-Pound Teenager
Jillian Michaels in Redbook: Being an Overweight Teen Was "Pure Hell"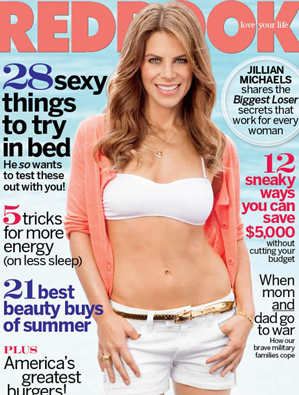 With the success of The Biggest Loser and her new show — Losing It With Jillian — Jillian Michaels is turning into a household name. But as she shares in the latest issue of Redbook, life wasn't always so sweet. As a teen, Jillian weighed in at 175 pounds and struggled with problems at home. It wasn't until she left home at 17 that her path to a healthy and successful life began. Check out the highlights here:
On finding inspiration to get healthy: "You have to establish the why: 'Why do you want to change your life? What's inspiring and motivating you? A long life? To wear your skinny jeans to your 10-year high school reunion?' That why is gonna carry you through."
On her weight struggles as a teen: 
"Oh, my God, it was pure hell. I spent all of eighth grade in my classroom because God forbid I ever left. I was terrorized."
Read more excerpts from the interview and see a picture of a teenage Jillian when you
.
On how she became fit: "My parents got divorced when I was 12. They were married for 18 years. They were kind of midlife-crisis-ing, and I was sort of the afterthought. I became pretty angry — no one wanted to deal with me — so when I was 17, my mom was like, 'You're not living here.' But I learned a lot being on my own . . . [During that time] karate saved my life. It all stopped the day I broke two boards with a kick."
On how the families react to her show:
 "I think they presume it's a fitness show. And the next thing you know, I'm in your marriage, I'm going to school with your kids. I'm, like, in the middle of everything . . .  I'm lying with one eye open in the middle of the night, waiting for the mom to come in and put a knife through my heart. It's brutal. It is brutal."