Jillian Michaels Endorses QuickStart Diet Supplements
Has Jillian Michaels Damaged Her Rep by Endorsing Diet Supplements?
Last week, I received a press release announcing the launch of JumpStart 14 Day Cleanse and Burn, a detox system endorsed by trainer Jillian Michaels. I have to admit that I was a little surprised to see that Jillian was behind a product like this, because I've always felt most cleanses rob your body of essential nutrients.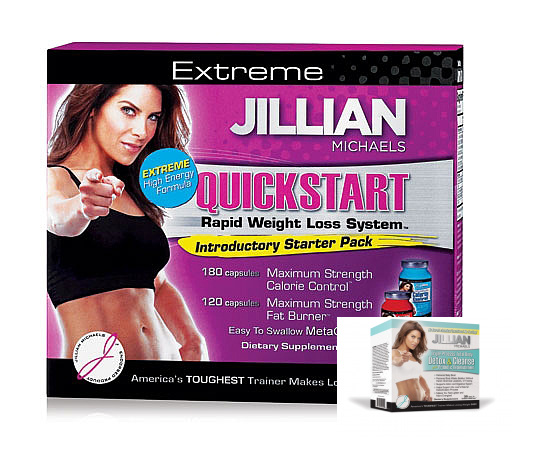 In the press release, Jillian says she developed the product because she wanted to make sure that there was a natural cleansing system on the market that didn't require fasting. The herbal supplements are taken with meals to "help reduce belly bloat, reduce body waste buildup, support your colon and digestive system, help support the liver's natural detoxification process, and help you feel lighter and more energized."
The JumpStart system is the latest addition to her larger supplement line, which includes pills for calorie control, fat burning, and weight loss. After looking at the directions, I'm relieved to know that her products are made from natural ingredients like grapefruit extract, cocoa, and kola nut, and not meal replacements. Still, I'm not sure how I feel about a respected trainer like Jillian endorsing supplements with names like QuickStart Rapid Weight Loss System and Maximum Strength Fat Burner. I've always viewed Jillian as someone who pushed the benefits of eating right and exercising, and these products seem to send a mixed message.
To be fair, though, Jillian has never said she was against supplements. In her book, Making the Cut, Jillian devotes an entire section to the positive effects that herbal supplements can have on diet and weight loss. Given this background, it seems that developing her own herbal supplement was the natural next step for Jillian. (On a side note, I thought it was pretty interesting that the usage and ingredients of Jillian's supplements didn't seem that different from Kim Kardashian's QuickTrim line.)
Tell me . . .