Jillian Michaels Talk About Being Overweight, Hosting a Talk Show, and Becoming a Mom
Jillian Michaels Fears Pregnancy Weight Gain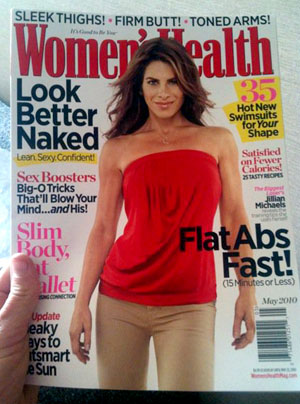 After gracing the February cover of Ladies' Home Journal, Jillian Michaels scores another one. She alerted us via tweet "My Women's Health cover is out. Yay!" and posted this cover shot on Facebook.
I fell in love with Jillian Michaels way back when The Biggest Loser first aired. I don't exactly enjoy having someone screaming at me, but I really respect her feisty, tough-love method of getting people to dig deep and give it their all.I also love her 30 Day Shred DVD, and whenever I'm running I always think of what she says: "This is your time." Jillian totally motivates me to kick ass when I'm working out.
Although the 5-foot-2 buff and tough 36-year-old is known for helping so many people drop pounds, she explains in her interview that her new mission is to become an all-around life coach. She told Women's Health,
"I want to empower people to find their happiness via a healthy lifestyle. And when I say healthy, I don't just mean diet and exercise. Those are just tools."
Aside from her role on The Biggest Loser, her two books, workout DVDs, and her reality show, Losing It With Jillian, set to air this Summer, there's talk of staring in her own daytime talk show in 2011, when Oprah goes off the air. This brunette has a huge desire to help people. To find out where it stems from,
.
Jillian didn't have the happiest childhood. Growing up in the suburbs of LA, her parents divorced when she was 12, and she turned to food, eventually reaching 175 pounds. She says, "I was an only child at the time, so there was nowhere to go with any of it. I felt abandoned." That's how she found her calling to comfort people who are hurting and vulnerable. Michaels says, "It's a desire to fix it."
In order to be strong enough mentally and physically to stand as a leading voice in health and wellness, Jillian needs to spend time taking care of herself. She exercises three or four times a week for 30 to 40 minutes, doing martial arts, jogging, and — get this — sessions with one of her personal trainers. Who knew a successful personal trainer needed her own trainer! I guess we all can benefit from someone motivating us. Jillian is also really conscious of what she eats and likes to buy organic at the nearby farmers market and through the website localharvest.org.
Another thing Jillian shared candidly in her Women's Health interview is that she wants to be a mother someday but that she'll adopt. This health nut admits that she's not too keen on getting pregnant because of her experience being an overweight child. "I can't handle doing that to my body. Also, when you rescue something, it's like rescuing a part of yourself." I can definitely respect that, but I'm wondering: have any of you considered adoption for the same weight-related reason?
Source: Jillian Michaels's Facebook page