Joan Jett's Diet, Exercise, and Fitness Tips For Abs and Arms
Get the Bod: Joan Jett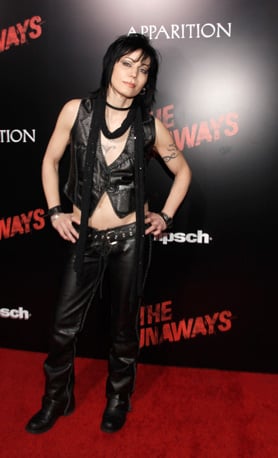 I love the idea that a new audience gets to see the awesome-ness of Joan Jett — via Kristen Stewart — in The Runaways, which opens this Friday. The woman seriously rocks, both literally and figuratively. She was off my radar for a bit, but her recent press appearances have reminded me of her amazing body: washboard abs and some smokin' guns to boot. Not too shabby for a 51-year-old rocker.
Curious at how she manages to look ageless, I did a little digging to see what I could find. From what I gather, there is no celebrity trainer or detox cleanses; Joan seems like a poster child for healthy living. As she told the New York Times a few years ago, "most days I feel like 25" — she stays active by always being on the go. Like many musicians, a demanding tour schedule leaves little time to sit around, but she does find time to exercise when home in Long Island. She's been known to go biking and knock out 50 push-ups during commercial breaks. Challenging rock star preconceptions, Joan doesn't smoke or drink, and does her best to stay out of the sun's harmful rays.
See Joan in action and find out about her vegetarian diet when you read more.
Joan also keeps her health in check with a healthy diet, and has been a vegetarian for over 20 years. She told Go Veg that she turned to a vegetarian diet while touring.
I was on the road eight months a year, and meat was too heavy to eat late at night, so I ate other things. I slowly lost my taste for meat, and at the same time, I experienced a slowly dawning awareness that it is unnecessary to eat animals in order to live in this world.
No alcohol, smoking, or red meat sounds like a surefire recipe for health! Next time you're at the gym, try working out to "Do You Wanna Touch Me" performed by Joan Jett and the Blackhearts — it's the kind of song that makes you want to be stronger.