Jothy Rosenberg Swims in Sharkfest Even Though He Has Only One Leg
Jothy Rosenberg's Tips For Surviving Sharkfest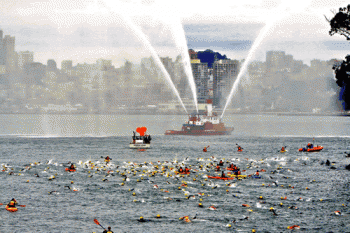 The name for the open-water swim Sharkfest is equal parts intriguing and intimidating. The one-and-a-half-mile swim starts on the famous prison island in the middle of San Francisco Bay and ends in Aquatic Park on the city's north side. I spoke with Jonathan (aka Jothy) Rosenberg the afternoon before this year's swim. Jothy has participated in the event since it began 18 years ago, making him an expert in my opinion. I asked him to share some tips for those of us landlubbers interested in tackling open-water distance swims.
"Definitely find a way to get in open water, preferably salt, in your wet suit," was Jothy's first tip. The more comfortable you are in the water and in your wet suit, the easier the swim will be. But learning how to "sight" while swimming is definitely the key to success. "The main new thing you have to do, which you never do in the pool, is look up." Since there are no lane lines in the SF bay offering guidance, you need to pick a landmark and aim for it. "It's not intuitive how difficult it is to see things once you're in the water that you could see in the boat."
Jothy's sighting strategy is simple. "First, count 10 strokes with one arm and make adjustments as needed" to continue aiming toward your landmark. "You have to look up fast. You have to understand that sometimes you won't actually see anything because right as you look a wave, even a little wave, might be right in front of you and when you look up so you won't see anything. No big deal, count five more strokes then look up." But you need to be able to look up without letting your legs drop. He explains it's "like Newton's first law of motion, your head goes up and your feet tend to drop."
Jothy was one of 900 swimmers to participate in this year's swim, but he was the only swimmer with one leg and essentially one lung. Learn what motivates him to jump in the bay annually when you read more.
Before turning 20, Jothy lost his leg and the majority of one of his lungs during two rounds of cancer, yet he thrives on physically daring activities that most folks shy away from.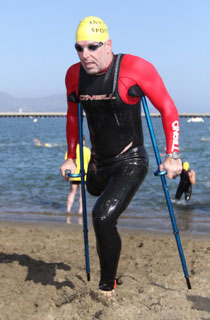 Swimming, due to its focused breathing, makes a perfect form of cardio for Jothy since panting with limited lung space is just not good. Jothy is also an endurance cyclist and an avid double black diamond skier. "For anyone in a situation like mine, there are constant challenges to your self confidence . . . and it's constant. You have to renew your feeling of self-respect that you did something hard, and something well, and something that most two-leggers won't do."
One such event is the Alcatraz swim. After participating for almost two decade, I asked him why he keeps traveling out to Nor Cal to swim in our bay. "Every year this is a swim of renewal for me. It reminds me that I can do this. A lot of people won't . . . It's hard and I work hard to get ready for it . . . There is this moment when I am coming [from the water right after his daughter hands him his crutches] . . . and there is a roar that comes out of the crowd that gives me the chills. Getting that kind of affirmation is really a drug, and I come back every year to get it."
For more inspiration, read Jothy's book Who Says I Can't. The 19th annual Sharkfest will be held on June 25 in 2011, and registration is now open. Jothy is already signed up and I'm thinking of doing it — are you with me?
Source: Brightroom Photography