Joy Bauer's Slimdown Workout DVD
DVD Review: Joy Bauer's Slimdown Workout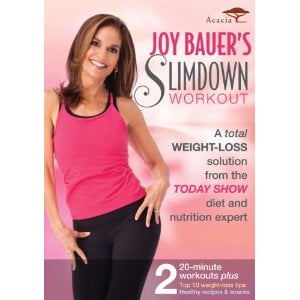 Ready to slim down but not willing to kill yourself to make it happen? It might be time to check out Joy Bauer's Slimdown Workout ($13). As much as I'd love to head to the gym for an hour or two every day, it's not always an option for a mother of two. Joy Bauer, a mother herself, knows what it's like to only have a few moments to yourself to tune up the body.
In her new fitness video, Joy Bauer, nutritional expert of NBC's Today Show and former gymnast, shows how easy it is to stay trim with two simple 20-minute cardio workouts. But it's not just her; she's teamed up with professional trainer Lisa Wheeler. The tall, svelte blonde essentially leads Joy in the routines. I'm not quite sure why she didn't make the cover since she does much of the directing, but it's a good thing she's there as she's much more than an inspiring figure. Lisa helps show the modified versions of exercises and points out Joy's perfect form, which makes you check your own along the way. To keep the viewer engaged, Joy sprinkles in her tidbits of wisdom and pointers. She also makes you feel normal when she says, "Don't feel bad if you can't do this, guys!" as she wobbles herself.
To see what I liked about the exercise and to see a teaser video, just
.
Like the DVD cover says, all you need to get through this workout are a set of small (two- or three-pound) weights and a mat. Once you've got that, you're ready to roll. The five-minute warmup is simple and fairly standard. After your body is in the groove from all the marching, squating, and lunging, it's time for the first 20-minute cardio session. Complete with squats, kicks, and jumping jacks, there are also some fun moves like the grapevine and running man, to keep it light and fun while getting your heart rate up and pumping. For a while there, I began to feel like I was in training to be a Dallas Cowgirl or a Laker Girl with some cheerleaderesque motions. When all the dancing stops, you are down on all fours ready for some core and arm work. The push-ups, plank, and other mat moves provided a nice ending to the first round of cardio by strengthening the abs.
Now if you're up for a second round of cardio, the next session definitely breaks a sweat much quicker than the former. If you only have time to do one or the other and you want more burn and perspiration, go for the latter. Lisa and Joy get the blood pumping immediately with a little jumping and a lot of weights — alternating between the two. It starts to feel a bit like an old aerobics class as you move into the grapevine, the Charleston, and some old-school hamstring kickbacks. It made me yearn for a high-cut leotard and a neon headband. All kidding aside, my arms, glutes, and abs certainly felt the burn from the all-body workout. And, similar to the first cardio session, Joy and Lisa end the second one with a few mat exercises to tighten the core, arms, and glutes.
I'd definitely recommend the DVD for anyone looking for a couple of quick cardio routines. Though they are both different in what they offer, they are both simple enough to follow, fun to do, and easy enough to modify. It's no wonder Joy's hair stays perfect and her makeup flawless in the first 20-minute routine as the exercises aren't sweat drenching, but they are effective and you feel the burn. It would be the perfect afternoon amp-up to fit into a busy schedule. If you're looking for a fast way to squeeze in a dose of muscle work and sweat, the second round of cardio is the answer. And, if you've got 40 minutes to while away, why not go for both and start that trim down quicker than you can say cheesecake! As for the cooldown, it was much like the warmup — basic and expected.
Now that I've mentioned cheesecake, I'd be remiss if I didn't bring up Joy's finishing polish on the DVD. She offers her viewers her top 10 weight-loss tips, healthy snack options, and diet friendly meals that had me reaching for a pen and paper. My favorite so far? The vanilla pumpkin pudding. It may be worth the DVD purchase for that recipe alone!
Take a look at the video and tell me if you'd be willing to give it a go.