Joy Behar Calls Pregnant Jessica Simpson Fat
Jessica Simpson Embraces Her Pregnancy Weight Gain — Did You?
Once again, Jessica Simpson is being criticized by the media because of her weight. During yesterday's episode of The View, Joy Behar referred to Jessica as "fat," saying, "Most women who are pregnant are not supposed to gain more than 25 pounds. She looks like she gained a lot more than that." Surprisingly, Sarah Palin, mother of four, defended Jessica on the Today show with the response,
"I would have wanted to punch [Jessica's critics] in the neck. It's none of anybody else's business how much weight I would gain. This isn't even an issue. Hollywood . . . is full of itty-bitty people, people [who are] unrealistically tiny."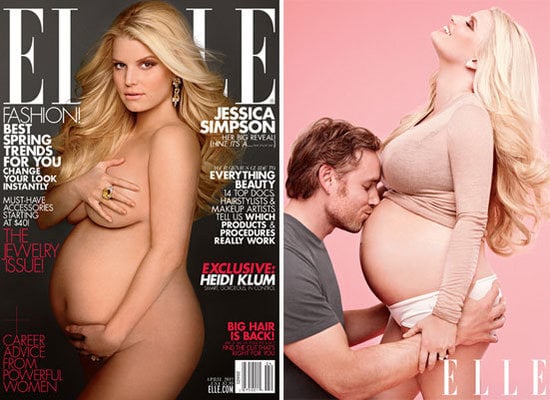 It doesn't bother 31-year-old Simpson though. She recently posed nude on Elle's front cover in all her expectant-momma glory, and is loving her womanly figure:
"I'm like 170 pounds and I wanted to pose nude. I try to be like 110 pounds. It's funny to be at your heaviest and feel the most confident. I just take such pride in being a mom! I just love my body more than ever now."
It is refreshing to hear a mother-to-be loving her larger body during pregnancy. Many expectant mothers are strict about diet and exercise to avoid gaining too much, while others embrace pregnancy as a free ticket to eat whatever they want and skip the trips to the gym. When pregnant, how do you feel about weight gain?