Julia Roberts Covers Entertainment Weekly: I Gained 10 Pounds Filming Eat Pray Love
Julia Roberts on Eating Her Way Through Eat Pray Love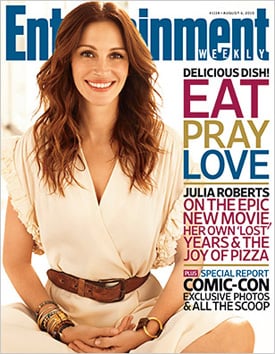 With the highly anticipated Eat Pray Love opening just weeks away, Julia Roberts is everywhere. And this is not a bad thing, BTW. BuzzSugar was lucky enough to catch up with the actress recently, and amongst other things, Julia talked about all the pasta and pizza she had to eat during filming. She told Buzz that she must have gained something like 11 pounds while filming in Italy, but "loved every pound." Julia is also on the cover of this week's Entertainment Weekly, where she talks more about food, but also about exercising and training for a half-marathon. Julia ran in the Santa to the Sea half-marathon last December with a time of 2:29:47.
Here are the EW interview highlights:
On gaining weight while filming: "Pizza was what I ate all day. By the time we left Rome, I was seven to 10 pounds heavier. I could've used a bigger pair of jeans when I went off to India!"
On training for a half-marathon while in India: "I trained a lot while I was doing the movie and it was so hot there. I think it was to my advantage that I had trained under such dire circumstances."
On exercising: "I must admit, I don't love exercise, but I do love how I feel afterward: accomplishment, clarity, energy, strength, joy. These are all things I give myself through working out, and I can feel it in everything I do."