Julianne Hough Wears Trendy Sunglasses Running in Miami
Julianne Hough Wears Fashion Sunglasses When Running — Do You?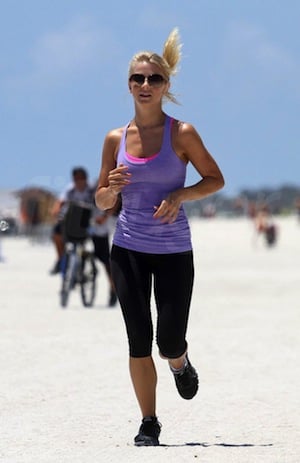 On location in Miami for the taping of her new movie Rock of Ages, Julianne Hough has been working diligently to get her body in tip-top shape for her new role.
We've seen her boxing with a personal trainer, biking, and now jogging on the beach — lucky! I love Julianne's sense of style, especially her mix of fitness attire, but I couldn't help but notice the super stylish sunglasses she was wearing. I don't know about you, but the sunglasses I wear outdoors when working out are pretty masculine and practically wrap around my head so they don't move. I'm somewhat envious of the fact that she can wear her designer shades without seemingly missing a beat while jogging.
What about you? Do you wear whatever sunglasses you have handy? Or do you have a special pair to wear while working out?