Just One Cigarette a Month Can Be Addictive
No Such Thing as "Social Smoking"
One cigarette a month may not feel like a habit, but it can still get you hooked on nicotine. That's according to a study of adolescent smokers published in Pediatrics, which suggests that teens' experimentation with the occasional cigarette can lead to a lifetime of addiction.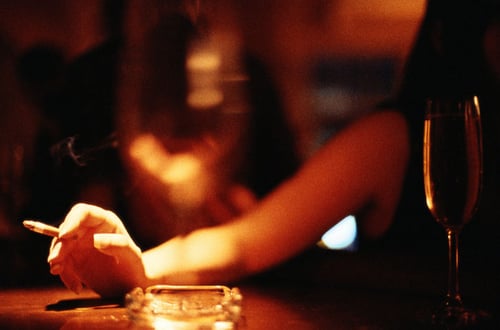 The four-year study started with 1,246 middle school students and found that those who smoked even one cigarette a month were likely to become hooked, suggesting that what feels like mere enjoyment can build into dependence. Kids may become addicted without even realizing it until they turn 18 and can buy their own. Says Joseph DiFranza, who helped author the study:
"What happens is when you first get addicted, one cigarette a month or one cigarette a week is enough to keep your addiction satisfied. But as time goes by, you have to smoke cigarettes more and more frequently. So people may be addicted for more than a year before they feel the need to smoke a cigarette every day."
Approximately one-quarter of the teens studied experienced withdrawal symptoms when trying to quit, just three or more years after starting. This news doesn't surprise me; in fact, it confirms what I've witnessed firsthand. What about you? Did you smoke as a teen or socially then find it hard to stop? I've got seven tips to help you quit if you need a hand.