Kara Goucher Announces Pregnancy
Running in the Family Way: Pregnant Marathoners Unite
Two elite runners were absent from recent marthons. We knew Kara Goucher was skipping the Boston Marathon in hopes of getting pregnant (but hadn't heard word before that big race) and then mommy marathoner Paula Radcliffe skipped her hometown marathon after announcing she was pregnant with her second child.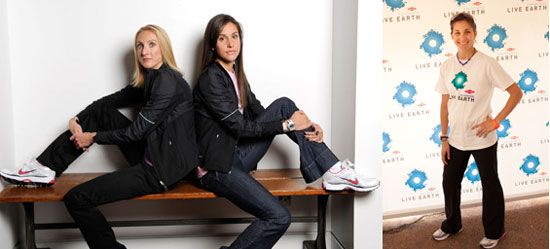 We have since learned that these two Nike-sponsored athletes have been training together, and that both marathoners have known since January that they're pregnant. Kara Goucher announced, right before Mother's Day, that she's expecting a baby boy with a due date of Sept. 29, which she coincidentally shares with Radcliffe. The two marathoners have been training together in Portland, OR, near Nike headquarters and have forged a friendship. Although Radcliffe told the New York Times that she doesn't see herself as a "mommy mentor," she has offered Kara some sound advice; namely to listen to her body and stop when she feels a twinge, and to forgo timing hill repeats.
These two are fierce competitors and both are aiming to run (and win the gold) at the London Olympics in 2012. But these two runners have forged a sweet friendship while logging mileage side by side. Radcliffe said, "When both of us stand on the start line and the gun goes off, we both want to win that race. But there's room for a really good friendship at the same time."
Congrats to both Kara and Paula. I wonder who will reach the delivery finish line first?