Kate Gosselin's Fitness and Diet Plan
How Kate Gosselin Found Her Abs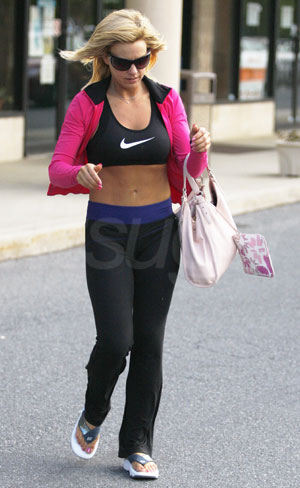 Kate Gosselin's abs are looking especially toned, and some speculate that it's from drawn-in ab muscle definition with a spray tan. While a sunless glow can provide extra definition, that's not the reason her abs look so darn chiseled. And neither is the tummy tuck she had after her last pregnancy — that merely removed excess skin that was overstretched from being preggers with six. On top of her favorite pastime of running, NYC-based Crunch personal trainer Jenn Burke tells Us Magazine:
"She has to be doing a lot of deep core training: planks, really working on activating her glutes. When you have children, it causes an anterior pelvic tilt, which causes the stomach to look more puffy than it is. You have to align it and activate those muscles again."
Burke believes this mom of eight must be working hard to maintain the body she achieved on DWTS. In order to stay that buff, this momma must make time to exercise an hour five or six days a week and incorporate "circuit training moves full of high reps to keep the body constantly moving and shedding fat and defining the look."
Sweating it out is only part of her regimen. To find out what Kate's diet looks like, read more.
Gosselin consumes about 1,400 to 1,600 calories a day, with " lots of high-quality protein like chicken and fish and fruits, vegetables and high-fiber grains." With her nutritious diet and regular exercise routine, looks like she's setting a healthy example for her kids.