Kate Hudson's Diet and Exercise Routine
Kate Hudson's Fit Philosophy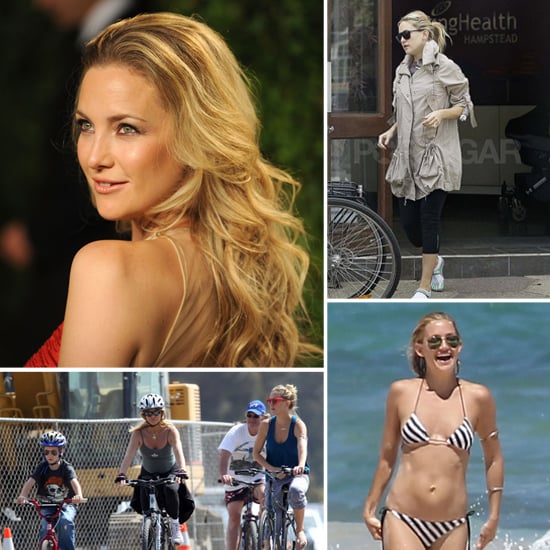 Happy birthday, Kate Hudson! The perennially sunny actress turns 33 today, and to celebrate we're taking a look at how the mother of two stays active and fit.
Her love of Pilates: To keep her figure toned and lean, Kate Hudson turns to celebrity Pilates trainer Nicole Stuart. Want to get Kate's Pilates-perfect body? Get Kate's Pilates workout here, and read these tips from Nicole Stuart on how to stay in shape.
All in the family: Kate's always on the move! She loves to stay active with her whole family and not just fiancé Matt Bellamy and older son Ryder — Kate's family riders also include mom Goldie Hawn and Kurt Russell. Kate also logs time with Matt at the gym (and doubles the calorie burn by following her workout with a bike ride!).
Have fun: Whether she's kayaking on vacation or dancing with celebrity trainer Tracy Anderson, Kate knows that staying in shape (even while pregnant) is all about having fun. Check out our video of Tracy Anderson's pregnancy workout for your own fun and effective prenatal workout.
A healthy diet: Kate stays bikini-ready with a healthy diet. Her trainer Ashley Conrad recommends you stay hydrated and detoxed with lots of water with lemon, and frequent meals and healthy snacks. Get Kate Hudson's flat ab diet plan here.
Her healthy living motto: Kate doesn't sweat the small stuff. For her, the secret to happiness is about putting family first, paying attention to the good, and ignoring the bad. "It's important to be conscious of your health and not indulge too much in the things that are bad for you. Do I mind having my appearance constantly scrutinized? I don't have enough time on this planet to worry about things like that. I'm more concerned with if I'm raising my son properly, with what makes my family happy, with what makes me happy," Kate has said.