Katie Couric Interviews Ellen DeGeneres on Body Image
Love Every Inch of What You've Got!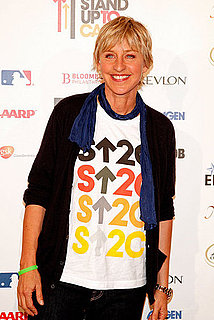 I love, love Ellen DeGeneres. She's incredibly funny, so inspiring, and her positivity is infectious. I also love that Ellen is a CoverGirl spokeswoman. Her unconventional look (and let's be real — age) are not typically what you see splashed up on a billboard, which is refreshing.
In a recent interview Ellen had with Katie Couric, I fell in love with her a little bit more. She talked about her reasons for going vegan and wanting to feel connected to the food she eats. She also spent a long time talking about the pressure women have on them to be a size zero.
"We put the wrong emphasis on what beauty is and what health is. Health is being vibrant and having energy and being happy. If you're healthy, it's got nothing to do with how much you weigh."
To see what Ellen thinks about airbrushing,
.
"Women are looking at bodies like that and going, 'My stomach doesn't look like that. I'm supposed to look like that?!'" the talk show host, 52, says. "So they starve themselves and they work out like crazy."
Great message, Ellen! I hope she's doing OK with her sugar-free cleanse — I know how hard it was for me to cut out sugars for two weeks. What do you think of Ellen's thoughts?