Kelly Osbourne Diet Tips
How Kelly Osbourne Boosts Her Metabolism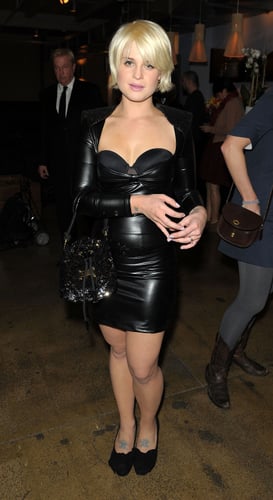 The proof is in the pudding or, in this case, the tango. Kelly Osbourne is in the best shape of her life, thanks in large part to all that booty shakin' she did on Dancing With the Stars. Kelly — who placed third — lost an amazing 25 pounds while on DWTS. Since the show, it looks like Kelly has lost even more weight, even showing up on the runway at Fashion Week.
Besides sticking to a healthy diet and keeping up with the tango, Kelly has some tricks up her sleeve to keep off the weight. The star recently told Life & Style Weekly that one of her diet tips is to eat before bed.
"I've completely changed the way I eat since doing Dancing With the Stars. A trick I've learned is to eat just a little bit of something that has no carbs and no sugar in it before you go to sleep because it keeps your metabolism going. They say you should never eat before you go to bed, but I've found just having a tiny little snack — like half an apple or something like that — before you go to sleep really helps."
Kelly is onto something too. First, that whole "no eating after 7 p.m." is bad advice because there is no magic cutoff time when it comes to eating. That little piece of apple Kelly is snacking on may be helping too. Eating smaller portions more often can stimulate your metabolism to work faster and also fuel your muscles, say the experts over at eDiets. Whenever you eat, your metabolism is put into motion — smaller but more frequent meals each day means that your metabolism is constantly going. Wait too long to eat, and your body feels starved and, as a result, will store fat, which causes your metabolism to slow down.