Kelly Osbourne Talks About Weight, Diet, and Exercise in Us Magazine
The Transformation of Kelly Osbourne
I have to admit that I've never been a fan of Kelly Osbourne, but after reading her interview in the latest issue of Us Weekly, I'm a convert. The singer talks in detail about the hard work she went through to transform herself from a size 14 to a size two. I love that Kelly did it in a totally manageable and healthy way, and has such a kick-ass attitude about everything she's been through. Focusing on a healthy diet and exercise plan, the 5-foot-2 star lost an amazing 42 pounds. Most importantly, she has let go of the shame she's carried for years because of her weight. Check out the highlights below.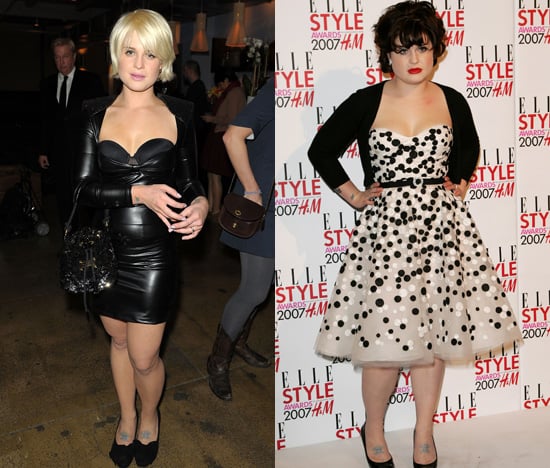 How Dancing With the Stars changed her life. "He [DWTS partner Louis van Amstel] made me work out, practice six times a day and get fit. I fought him the whole time, but at the end of the show I realized he was right. It worked."
On working out.  "After DWTS ended I followed the Bar Method and now I do that three times a week at least. Not every day. I don't have that kind of dedication. Working out sucks. You sweat and you stick, but then you're done — and then you see that just taking an hour three times a week can change you so much. It becomes addictive."

To find out what Kelly's eating and how her self-esteem has changed, read more.

On eating well. "You don't have to count calories. Just make sure what you're eating is good food. You can eat as much good food as you want if you're careful. I try to have no carbohydrates unless they're natural, such as apples. No bread, no pasta and real sugar . . . what that does to you is incredible. I lost five pounds in one week just by eliminating starchy carbs and soda."
Why dieting doesn't work. "If you want to lose weight for good, you need to make a commitment to a life change. You have to say, 'I'm just not going to eat that anymore. I'm going to change my bad habits.' Otherwise, you'll spend the rest of your life yo-yoing and you'll be miserable. By no means is it easy. Getting in shape is one of the hardest things I've ever done."
On loving who she sees today. "When I look in the mirror now, it's really different. For the first time, I look at myself and I'm really proud to not hate every single thing that I see. What has made this process so healthy and interesting to me is that it's been a whole transformation. It's like this feeling disappeared that I had carried around with me for so long."
To hear more about Kelly's amazing transformation, pick up the latest issue of Us Weekly, which hits newsstands today.