Kelly Ripa's Diet and Exercise Routine
Kelly Ripa's Fit Philosophy
Happy birthday, Kelly Ripa! Since making her health a priority a few years ago, the 42-year-old talk show host has been known for her famously toned physique. Check out how Kelly maintains her healthy outlook — and those muscles — below!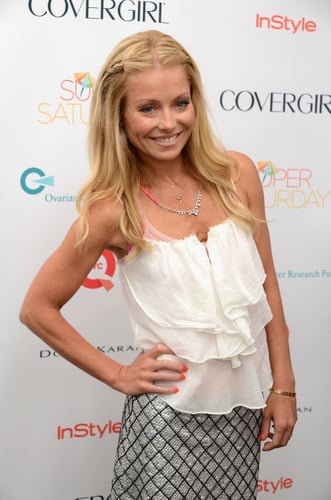 It's in her schedule: No matter how busy, Kelly makes time for exercise. "I work out every day. It's part of my life," she recently told Good Housekeeping, saying that she works out when her kids are at school.
Heart healthy: Kelly has to look good for the camera, but that's not the only reason she loves to exercise. Kelly makes exercise a routine for more than just looks. "I do it more for my insides than my outside, but the outside gets a nice benefit, too. I feel like my mind is a little quieter when I exercise. And I don't have the best family history heart-wise, so I really try to keep my heart strong," she says.
Her workout favorites: Kelly stays toned and strong with her favorite types of workouts, which include intense SoulCycle classes, muscle-lengthening barre-inspired sessions with her trainer, and running, which she took up after noticing that playing with her kids was tiring for her. She explained the evolution of her running back in 2007: "I began feeling tired — just playing in the park with my kids wore me down . . . So I started walking on a treadmill. Then I started jogging on a treadmill. Then I began jogging outside. Now I'm running outside, three to five miles."
Eating clean: Kelly's family history of heart disease spurred her to eat healthy. She chooses healthy options like leafy greens, fruit, Greek yogurt, and fresh, simply prepared meals. "If I'm having a sliced chicken breast, I'd put it on a bed of simple sautéed spinach with a little bit of lemon and olive oil. I'm not too big on sauces. I just want the taste of the food," she told Shape. She indulges moderately with favorites like cheese and Girl Scout cookies.