Kerry Washington's Diet and Exercise Routine
Kerry Washington's Fit Philosophy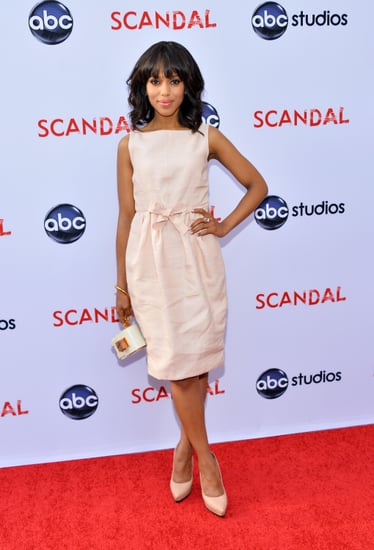 Congratulations are in order for actress Kerry Washington, who is both newly married and newly nominated for an Emmy for her starring role on Scandal. To celebrate, we're taking a look at her admirable philosophy on staying fit, healthy, and happy.
She doesn't obsess over the scale: Kerry knows that constantly weighing yourself can do more harm than good. Likening it to obsessing over critic reviews, she tells The Guardian, "If the number is a number you don't want it to be, then you're miserable, and if it's a number you want it to be, you spend the rest of the day thinking, 'Oh, I should never eat again so the number stays where it is, right?' It's just better that I don't get on the scales."
She's not just about the calorie burn: To Kerry, working out isn't just about fitting into a dress, which is one reason she's become a Pilates devotee. "As women, we live in this culture where it's like, 'You have to fix this.' Pilates has allowed me to be focused on my appearance and my health in ways that are not abusive or critical," she recently told Women's Health. Kerry credits the workout with teaching her body awareness, reducing stress, and helping her with body image issues. "I've never met anybody who's taken Pilates and doesn't understand their own body better afterward," she says.
She's always active: Besides her Pilates practice, the 36-year-old actress also tones and burns with hiking, dance classes, Gyrotonic training, and the elliptical machine. "I love to exercise. I generally exercise every day," she told People in 2007.
She's sensible about dieting: Kerry may be conscious about her weight, but when it comes to food she focuses on how it makes her feel. "I watch what I eat, I do. My body is really sensitive so I'm very conscious of what I put in my mouth," she said in 2007. "I try for the most part to eat things that are going to make me feel better, not worse." Kerry eats well by frequenting farmers markets, but does admit to an obsession with Sprinkles cupcakes in LA and Eleni's cookies in New York.