Kim Barnouin on Skinny Bitch: Ultimate Everyday Cookbook and Her Kitchen Staples at Nasoya Tofu Event
What Skinny Bitch Kim Barnouin Feels Naked Without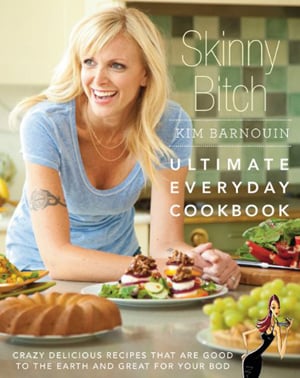 At the Nasoya Tofu U party, I enjoyed a meal fit for a vegan queen — thank you, The Plant Cafe Organic — and met Kim Barnouin, co-author of the popular Skinny Bitch book series.
Kim has made a career of teaching women the ins and outs of healthy eating in basic no-nonsense terms: if you eat crap, you're going to feel and look like crap, too. And for Kim, avoiding crap means sticking to a vegan diet. But that doesn't mean you can't eat well. In her new cookbook, Skinny Bitch: Ultimate Everyday Cookbook ($20), Kim keeps her familiar chick-lit tone to engage audiences in how to cook and live a healthy, happy vegan lifestyle.
At the demo, Kim showed us creative ways to turn tofu into tasty dishes; my faves were the spicy tofu tacos and tofu brownie bites. She also shared the items she always keeps stocked in her kitchen:
Good olive oil is essential. It works in salad dressings, marinades, stir-frys, and adds flavor to bread.
Legumes like beans and lentils are staples. Filling, full of protein, and perfect for main dishes.
Spices and garlic are must haves. They add zest and flavor to all dishes, eliminating the need for a ton of salt, butter, or oil.
Tofu — at least two varieties. Keep a silken tofu handy for sauces, soups, and desserts, and a firmer tofu for main courses.
Whole wheat pastry flour is a go-to ingredient in desserts.
Vegan or not, I think Kim's list is full of must haves; what things do you always keep stocked in your kitchen?