Kim and Khloe Kardashian Discuss Being Curvy at Bebe Clothing Launch
Kim and Khloe Kardashian Had to Learn to Embrace Their Bodies — Did You?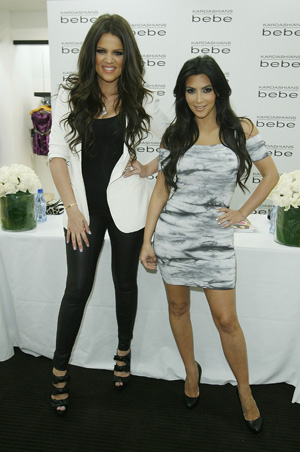 This week, Kim and Khloe Kardashian revealed to Us Weekly that they didn't realize how beautiful their curves were until they were adults. Kim says:
"I never knew to embrace curves. I looked at my aunt and cousins and saw these Armenian women with big butts and boobs, and I didn't really realize how attractive it actually was then. Your perspective grows."
Despite gaining a new perspective as an adult, Kim says that her parents raised her to feel comfortable in her own skin. Khloe added that because of the support from her family she never considered herself as overweight.
"I'd always be in tight dresses. In my head I did not think I was ever fat. Other people did, but I didn't think I was — ever! Because of my family base, I always accepted my natural shape or what I thought it was. I appreciate it now and I want to help other people."
The sisters' way of helping people continues to be promoting QuickTrim diet products though, which I think is a major disappointment. Given that the sisters are always seen working out, it makes more sense to credit exercise and a healthy diet for their weight loss. But given how many people seem to love them, I think it's great that they have always said it's OK to be curvy. Tell me . . .