Knife and Fork Lift Weighted Utensils Help You Eat Slower
Knife and Fork Lift: Cool or Not?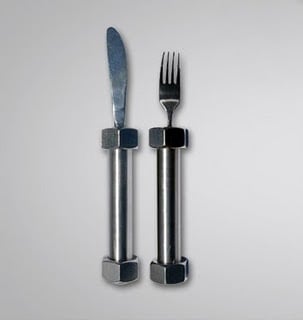 You already know that I'm all about fitting fitness into my everyday activities, but I am still on the fence about the Knife and Fork Lift ($40). It's a combination utensil and dumbbell set, and each utensil weighs 1.5 pounds. The website says that the Knife and Fork Lift "serve as a constant reminder that eating puts weight on and requires exercise to take it off."
Given the light weight of the utensils, it's unlikely that you'll develop your guns while eating, but it will feel quite different than an everyday set of serveware. I could see how this set would put you in the mindset of eating slower though, which is a big plus since I tend to eat too fast. Slowing down the eating process aids with digestion and helps prevent overindulging. Tell me . . .