Kourtney Kardashian Covers Life & Style Magazine About Losing the Baby Weight
Kourtney Kardashian Shows Off Bikini Bod to Life & Style
Kourtney Kardashian gave an exclusive post-pregnancy body reveal to Life & Style this week. In the interview, 5-foot-3 Kourtney shares that she's lost 33 pounds since giving birth almost four months ago in December and is finally "comfortable being in a bikini again." This exclusive interview comes two months after OK! Magazine falsified reports that Kourtney dropped all of her pregnancy weight in January. Kourtney gained 40 pounds while pregnant and says that even though she is still seven pounds away from her goal of 100 pounds, she is excited about her body again.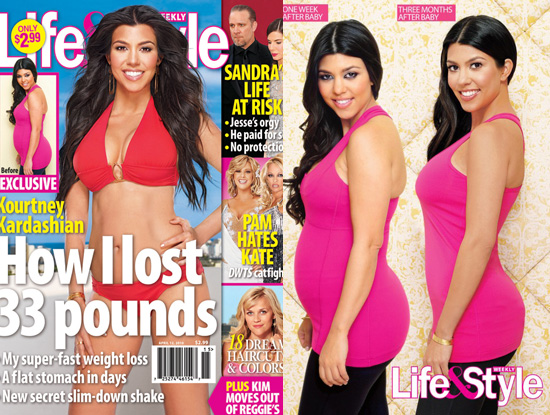 Meanwhile, Scott Disick, Mason's father, is happy with Kourtney whatever her size:
"Scott told me recently that he could tell my body was changing. He also said he could tell I'm noticing it because I'll do these stupid dances in the mirror . . . he's always complimentary. He loved my post-baby body, but I think he's excited I'm getting my old body back too."
Kourtney is making the most of her new bod these days by soaking up the sun in Miami with baby sis Kim.