Kourtney Kardashian Reveals "How I Got My Bikini Body" to Life & Style Magazine
Kourtney Kardashian Shares Her Bikini Body Tips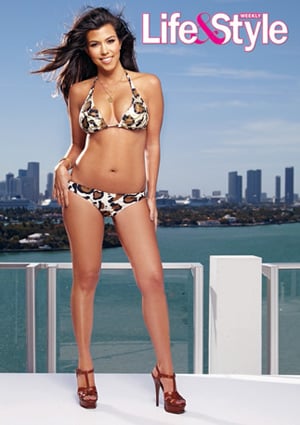 Kourtney Kardashian is back in the pages of Life & Style this week, but this time she is sharing her secrets for getting bikini ready. In case you missed it, Kourtney was on the cover just a few weeks ago revealing how she dropped 33 pounds after giving birth to baby Mason. Here's a preview of the bikini tips Kourt shared with Life & Style:
Start small: "I used to always get a chai latte from Starbucks, but I just switched to one espresso shot. I'm allowing myself one serving of caffeine while breastfeeding [Mason], and the latte was really all sugar and milk." Kourtney also tells Life & Style that she cut out other unnecessary calories, like those from juice and dehydrated fruits. "I was eating a lot of dried fruit, and I didn't realize how much sugar that added. And now I'll eat raw almonds instead of salted ones."
Know what works best for your body: Kourtney tells Life & Style that she likes the weight she gained in her bottom while pregnant so she's found exercises that will help her keep her booty, but also tone and lift it. "I want to try to do squats — stuff that will keep the booty up there."
To see more tips, read more.
Find a sport you love and run with it: "I'm big on running — just putting on my iPod Shuffle and going for a run by my house." Kourtney also uses the treadmill or elliptical at her mom's house.
Keep your menu fresh: "Frozen yogurt tastes so chemically to me because I've been eating salads and salmon and chicken. Fresh food is so much better."
For all of Kourtney's bikini body secrets, pick up the latest issue of Life & Style, on newsstands now!