Kourtney Kardashian Talks to Life & Style Magazine About Losing the Baby Weight
Kourtney Kardashian Is in No Rush to Drop the Weight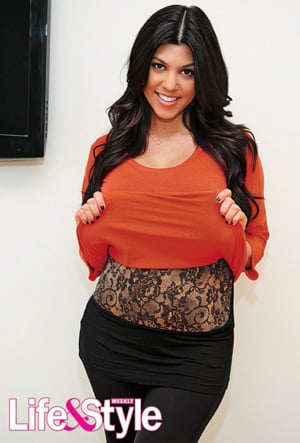 When it comes to losing the baby weight, Kourtney Kardashian is in no rush. In a recent interview with Life & Style, the reality star says that she'd rather hang with baby Mason than work out. Given that her son is only 7 weeks old, I think that's a more than reasonable request.
Kourtney was recently in the middle of some controversy when a falsified article appeared about her in OK! Magazine. A photoshopped image of Kourtney appeared on the cover with a headline that read, "My Diet Secrets: Lose 10 lbs. in 10 Days." Kourtney never even spoke to OK! for the article, and as she told Life & Style, she still had her baby weight.
"Since having him, I don't care as much what I look like," Kourtney told Life & Style. "I gained weight in my booty, my stomach, my thighs and my arms. Everything got a little bigger for sure. I do want to get back to the way my body was before, but it's definitely not my biggest concern. I feel fine."
So far, Kourtney has lost 25 of the 40 pounds she gained while pregnant. The reality star admits that it's been hard to lose the weight and has been using the Belly Bandit to help her slim down. The Belly Bandit is an "abdominal compression binder" designed to shrink the stomach after delivery. Kourtney says it helps her feel slim and that her clothes fit better, as a result.
Given that her sisters are all about QuickTrim supplements to drops the pounds, it's nice to see that Kourtney is taking such a relaxed approach to her post-pregnancy body.