Kourtney Kardashian Upset About Photoshopped Postbaby Bod
Kourtney Kardashian: Keep Your Lies Off My Body
New momma Kourtney Kardashian gave birth to her son on Dec. 14, and she's already on the cover of OK! magazine looking like she's back to her prebaby body. Before you get all jealous or outraged, you should know that the photo is a lie, and Kourtney is not pleased. She told Women's Wear Daily, "They doctored and photoshopped my body to make it look like I have already lost all the weight, which I have not."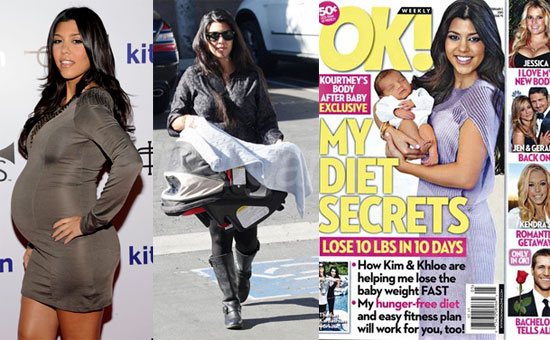 Kourtney also twittered, "One of those weeklies got it wrong again . . . they didn't have an exclusive with me. And I gained 40 pounds while pregs, not 26 . . . But thanks!" Kourtney never even spoke to OK! for the cover story.
It's great to hear a celeb come forward and tell the truth about being photoshopped, and although I have my opinions about the Kardashians, this definitely makes me respect Kourtney a little more.