Kranking Proven to Burn Calories
Kranking Burns Major Calories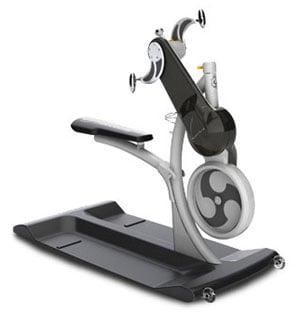 If you're unfamiliar with Kranking, you're not alone. A Krankcycle resembles a bike, but instead of peddling with your legs, you peddle with your arms. This piece of equipment is perfect for those with knee, ankle, or foot injuries, but when you watch someone krank, it doesn't seem like it's the most effective cardio workout.
A recent study from ACE (American Council on Exercise) studied 20 people who participated in a 30-minute Kranckcycle class, all wearing heart rate monitors. Researchers found that on average, each participant burned 9 calories per minute, for a total of 269 calories. When running 30 minutes at a pace of 10 minutes per mile, a person will burn about 295 calories, making the two workouts surprisingly comparable.
If you're tired of using your legs on the treadmill, elliptical, or stationary bike, then get your arms cranking on a Krankcycle, and you'll get in a great workout. Tell me, have you ever tried Kranking?