Kristin Davis on the Cover of Fitness Magazine
Kristin Davis Looking Fit on Fitness
Everyone here at Sugar HQ is getting fired up for Sex and the City 2. Although the movie doesn't open in theaters until May 27, we can catch up with Fitness magazine cover girl Kristin Davis and see just how much she has in common with her character Charlotte. Here's a look at her conversation with Fitness.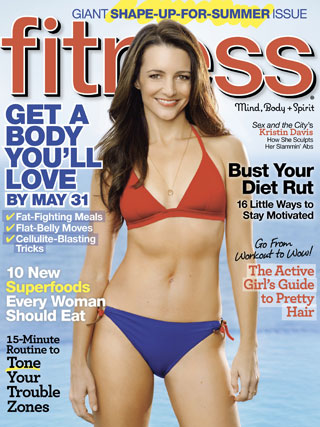 On being body confident: "I have hips! I'm never going to be the thinnest actress, and I don't want to be. When you're at peace with yourself and your body, you're automatically more confident."
On her fitness routine: "I can't just hop on the treadmill. I need to mix things up and enjoy what I'm doing." The actress keeps her workouts fresh by alternating between hiking, yoga, Pilates, and cardio, depending on her mood.
On running: When asked if she started running because her character on SATC ran, she replied, "I actually started running when I was cast on Melrose Place. I wanted lean legs, so I got a coach and I'd go up to Santa Barbara and run seven miles on the beach. I loved running outside, but I got so many ankle injuries over the years that I've had to take a break from it."
To see how she feels about posing in a bikini, just
.
On posing in a bikini: "I'm not going to lie. It was very intimidating. There are people who feel comfortable in bathing suits, and I don't know how they do it. I worked with Kristen Bell and Malin Akerman on the movie Couples Retreat, and they didn't care about standing around in their bikinis for days. The guys in the movie were more self-conscious than they were!"
On eating healthy: "I eat a lot of chicken, salmon, eggs and side salads. But if all I ate were salads every day, I'd shoot myself. Who cares if you can fit in your skinny jeans if you can't enjoy life and have something good to eat? I went through periods when I said I can't have this, I can't have that. Now I don't deprive myself. Food is meant to be enjoyed."
While Kristin prefers working out with a buddy, she explains that costar Sarah Jessica Parker "doesn't need a support buddy. She's one of the most motivated people I've ever met, and she has an amazing body even when she doesn't work out." To further prove her love for running and group exercise, the lovely brunette is hosting 10,000 runners on April 25 for the More/Fitness Women's Half Marathon in Central Park. On your mark. Get set. Go . . . and don't forget to pick up the May issue of Fitness on newsstands April 27 to learn more about Kristin.