Kristin McGee Interview About Vinyasa Vibes
Yogini Kristin McGee Dishes on Bethenny Frankel's Fave Pose and Getting Ready For Beach Season
I was lucky enough to take a class taught by Manhattan-based yoga teacher Kristin McGee right here in San Francisco! Although one busy lady, Kristin traveled across the country to teach Vinyasa Vibes (a new offering at The Sports Club/LA), a flow-based, powerful yoga sequence enhanced by music. The most musical part of the practice? During Savasana, the class culminated in a live sax solo by Grammy-nominated musician Dave Koz. After class, Kristin and I chatted about her yoga journey, getting ready for bikini season, and what it's like working with one of her famous clients, Bethenny Frankel.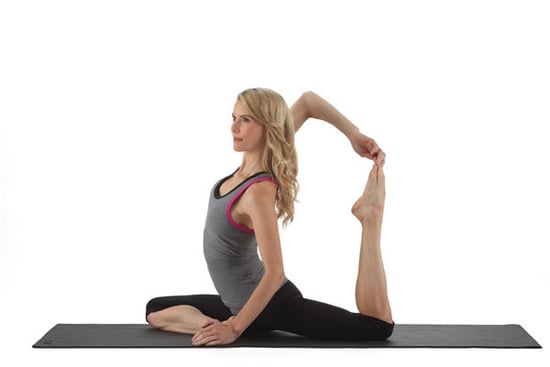 FitSugar: Some of the moves in Vinyasa Vibes are Ashtanga-influenced. Is that what your yoga teacher training background was in?
Kristin McGee: My original background was really eclectic because I started in the early '90s. I started taking [yoga] at NYU; some of my very early teachers were Jivamukti teachers who did study Ashtanga. Then I did study with Richard Freedman for a while, who is pure Ashtanga, and Cyndi Lee at OM Yoga. I wanted to get deeper into Iyengar classes and get into the alignment and the detail. Now in my practice I want to get more into Pranayama, more of the breathing, and maybe take some more Kundalini classes. I just feel like it constantly evolves.
FS: The Vinyasa Vibes class has live music during final relaxation. Can you elaborate on the experience of live music and yoga combined?
KM: In yoga practice, it's a very intimate, immediate place. It's almost like live theater or live music where it brings you right into the moment. Music is a universal language, just like our breath is a universal breath. I think the second we're in this surrounding, in this environment with that live music and the intimacy of a live class, it brings it all together in one beautiful experience.
FS: You've collaborated with Bethenny Frankel on some projects. What's her favorite pose?
KM: Bethenny's all-time favorite pose is Straddle Forward Bend because she says it feels like the weight of the world is falling off of her shoulders. Someone like Bethenny Frankel has a million things going on, and I don't know how she does it! But I think you also noticed it in the practice tonight. Right when we finally got to that Straddle Forward Hang, it was kind of just like, "Ugh! Such a release!" You feel like you could stay there for quite a while.
Keep reading for Kristin's favorite snack before class and how to get your body ready for Summer.

FS: What's your favorite go-to snack before a yoga class?
KM: One of my personal favorites is Greek yogurt with some berries. I just think that it's a good filling snack but it's not going to slow you down, but be sure to leave an hour [to eat] before your practice. If you're ravenous and you're going to practice in 20 or 30 minutes, have a banana. Also, a banana with some peanut butter or almond butter a couple of hours before, or a piece of whole-wheat toast with some peanut butter and sliced banana is great. A handful of almonds are always good!
FS: We're gearing up for beach season! Any advice on moves to get your body bikini-ready?
KM: Plank is just your standard, go-to; it's going to get your abs, it's going to get your arms, it's going to get your entire body, and then moving into Chaturanga is amazing. It's going to tone those triceps and be great for strapless dresses. It's a very difficult pose to do. I always caution people not to let their shoulders round forward, but if they can really engage those rear deltoids, they're going to get rid of all that "brabble" and back flab — all of that area we want to tone! I personally love Dog Split and Standing Split. When you hold Standing Split, you really engage the entire back body, so you're going to get right into the sides of the waist, you're going to streamline your hips, your thighs, your buttocks. So I really love incorporating Dog Splits into my yoga flow sequences or really concentrate on those areas.
If you don't live in a locale where you can take Kristin's live class, you're in luck! She has a brand-new yoga and Pilates app to help you get fit, even on the go.