Kristin McGee S3 DVD Review
DVD Review: Kristin McGee's S3 Strong, Sexy, Svelte
For yoga or Pilates buffs looking to incorporate some focused strength training into their routines, Kristin McGee's newest workout DVD, S3 — Strong, Sexy, + Svelte ($17), does not disappoint. The three 25-minute segments can be performed on their own or all together for one long and intense workout.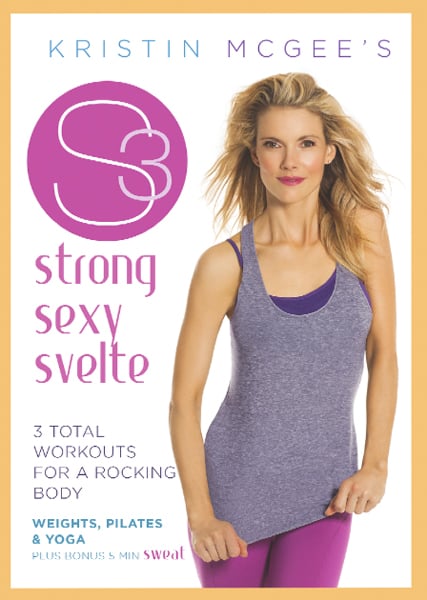 The Strong workout combines classic yoga postures with dumbbell exercises, while the Sexy workout focuses on Pilates with blasts of cardio. And finally, yoga lovers who have heard the rave reviews of Kristin's flow can enjoy some straight-up power yoga in the Svelte sequence.
Keep reading to learn more details about each of the segments after the break.
If you're looking for a lighter workout, the Sexy segment is full of Pilates exercises that are primarily focused on toning the abs, and compared to the other two workouts in the series, I found it to be the least intense. While there is some leg work involved, most of the attention is on the midsection. The Svelte yoga sequence is upbeat and fast-paced; this one definitely requires familiarity with flowing and an intermediate knowledge of yoga poses. For yogis who can't seem to find a flow sequence that holds their attention outside of a studio class, I would recommend this part of the DVD, especially as a morning yoga session.
I personally found the Strong sequence the most challenging and inventive. I finally got to try out Kristin's yoga burpee using dumbbells, and I was impressed by the other poses she transformed into weight-friendly exercises, especially Warrior 3 and Eagle Pose. Having some yoga knowledge was certainly helpful when moving through these poses so quickly, but with a little practice, any beginner would be able to catch on quickly. If you're going to do any segment on its own, then I would suggest the Strong sequence for a full-body workout.
Kristin has an upbeat effervescence about her that constantly pushes you forward. With each rep, I felt my heart rate go up, but her smile and constant positive connection makes you feel like you can keep going — even when you're fading fast. This DVD will absolutely have a permanent home in my collection.