Last-Minute Marathon Tips
10 Last-Minute Tips For the Week Before Your Marathon
The months of endless running have come and gone, and now you're counting down the days until your marathon. How much tapering you should be doing the week before your big day depends on which marathon training plan you're following, but your mileage isn't the only thing you've got to think about. Make sure you're ready for your 26.2 by remembering these 10 tips the week of your marathon.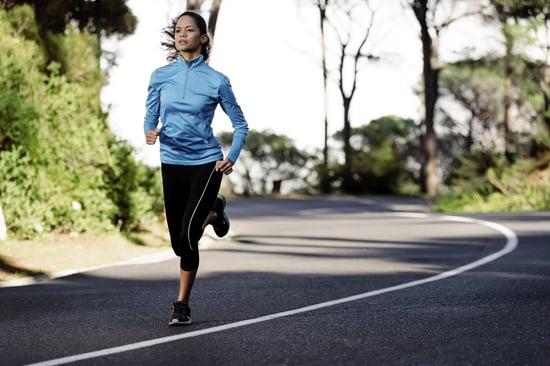 Write down your goals: You've spent months training, but even if you think that you have everything down, visualizing will help you remember when you're counting down the miles. Jot down your goals for the marathon — whether it's to run each mile at a certain pace, to run the second half faster than the first, or simply to have fun — so you can have them in the forefront of your mind while you are running.
Think of a quote: While I've been training, I've loved hearing which quotes have motivated people to the finish line while they run marathons, and I know that I'll have a few in mind to help motivate me during those last miles. One of my favorites was shared by an 85-year-old veteran marathoner at last year's Reggae Marathon: "Run until it gets too hard; walk until it gets too easy." Check out our motivational-quotes posters for help choosing one that will push you along if you're struggling during your race.
Do an outfit check: You know not to buy a whole new outfit for marathon day, so make sure that the gear you've planned on running in is clean and damage-free. Lay out your entire outfit, from hat to socks and shoes, a day or two before the marathon so you can ensure that you're not rushing around last minute the morning of. If you're using anything extra like a knee brace or BodyGlide, make sure you check for those as well.
Stock up on snacks: Now that you know what you'll be eating for breakfast on race day, it's important not to deviate and surprise your stomach with anything new. Make sure your kitchen has what you need, whether it's oatmeal or bananas and bagels. Likewise for your favorite energy gel brand: give yourself ample time to make a trip to the store to find exactly what you need before marathon day.
Know how to get to the start line: If you're driving, map out the directions so you know how to get there, and make sure to factor in parking time. If you're taking public transportation, make sure you check to see if there are any race-day interruptions to the service so you can factor that into your plans.
Read on for five more last-minute marathon tips.
Don't walk too much: Your tapering agenda may vary depending on your goals and your training plan, but one thing's clear: you should be saving your energy. That means you shouldn't do any excessive walking in the days before the race. So if you're at a destination marathon, save the sightseeing for after you've crossed the finish line and rested up.
Ditch the heels: Those high heels can distort your balance, weaken calf muscles, and cause nerve inflammation — all of which you don't need to deal with before you run an hours-long race. Take a break from the heels until well after your postrace legs and feet are rested and back to normal.
Massage it out: Keep your muscles flexible and loose by continuing to roll out any knots with a foam roller. You can get a massage from your regular therapist if you have been doing so during your training, but experts advise against getting a massage in the last few days before your race if you have not been doing so throughout your training. If you do opt for a massage the week before your race, make sure it is a light therapeutic massage, not a deep-tissue sports massage.
Drink water: Make drinking enough water a priority the week before your race, especially if you feel like you always forget to drink enough. Hydration will play an important part in your race performance, so make it a habit to ensure your body is adequately hydrated by the morning of your race.
Rest: With your schedule not dominated by as many runs this week, you may be tempted to carve out time to hang out with friends and family you've been neglecting. Just make sure that your evening plans don't cut into your sleep time. It's important to use this time to get enough sleep to help you feel 100 percent on race day. Follow these sleep habits so you can rest up the days before your marathon.