The Latest Controversy Surrounding Bath Salts
The Lowdown on Epsom Salts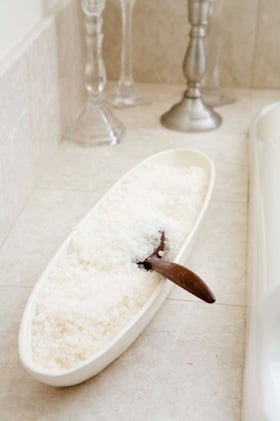 Epsom salts, my favorite soothing bath crystals, are getting quite the bad rap lately. Are they no longer delivering their promised soothing, sleep inducing, muscle relaxing benefits? Um, not exactly.
The "bath salts" that have been tested positive for having a similar molecular makeup as ecstasy and methamphetamine are not actual Epsom salts. What's happening is that these fake bath salts are being marketed as Epsom salt-like concoctions so that they are harder for the legal authorities to track down. People who are ingesting these salts are experiencing psychological symptoms like paranoia, delusions, and panic attacks, while the physical symptoms include chest pains, sweating, nausea, nosebleeds, and vomiting. Make sure if you buy bath salts that the packaging is legitimately labeled with "Epsom salts" or "bath salts" and is from a reputable bath, body, or drug store.
Epsom salts, however, are amazing. Find out what the miracle ingredient in Epsom salts is that make them so powerful, and learn to create the perfect Epsom salts bath.
What makes Epsom salts so powerful is the magnesium sulfate within the salts. Many people in the holistic health community believe that in baths, the magnesium sulfate is absorbed into the skin and naturally draws out toxins. And while there's no strong evidence to back this claim, soaking in a hot Epsom salt bath just feels so soothing and may decrease joint and muscle pain and speed healing.
Here's how to make a perfect Epsom salts bath:
Run a hot bath. In the evening usually works best.
Add one to two cups of Epsom salts. If the salts aren't scented (I love lavender and eucalyptus), then add a few drops of your favorite essential oil.
When the water is ready, soak in the tub for at least 15 minutes to allow your skin to absorb the magnesium.
Have a glass of water handy since you'll need to stay hydrated.
Relax and enjoy.
And here are some helpful tips for using Epsom salts in your beauty routine!