Lauren Conrad "Got Milk?" Campaign
Got Milk? Reasons to Go Out and Get Some
When I was younger, I had to to drink a glass of milk with every meal. As I got older my dad loosened up a bit with his rule, and I found that I drank less and less of the stuff. In my father's generation they drank milk in the same way many of us grew up drinking soda or juice. Nowadays, it's more unusual to drink milk than not — something I've learned only because I get funny stares whenever I order a glass while out. The Got Milk? ad campaign was born years ago as a way to give milk cool status again. Well, you can't get cooler than this: its latest model is Lauren Conrad, and the company created interest by campaigning with LC's fans over Twitter.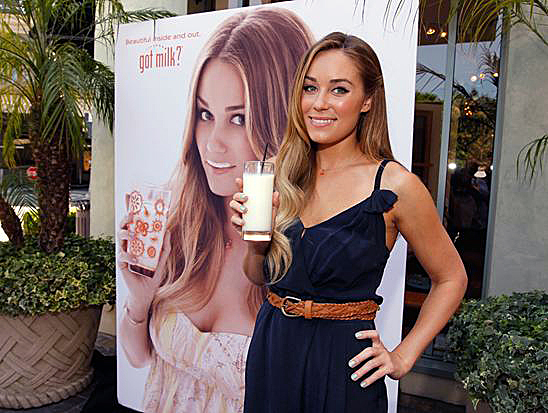 Besides having the backing of LC, here are five reasons you should enjoy a glass of milk today:
According to a study, women who drank two glasses of fat-free milk after strength training gained more muscle and lost more fat as compared to women who consumed energy drinks.
Dairy fat is good for the heart. It may lower blood pressure, reduce cholesterol levels, or decrease the chances of a heart attack.
See the other healthy reasons to get milk when you
.
Milk is full of calcium, which is essential for good bone health and helping prevent osteoporosis. And a study has shown that drinking your calcium is more effective in creating strong bones than taking a supplement.
Vitamin D has been in the press a lot because many of us aren't getting enough and it's something we really need. Milk continues to be an easy and excellent source of Vitamin D.
If you've got a case of the PMS blues, milk might be exactly what you need. Studies indicate that it can cut PMS symptoms in half.
Have you got milk?