Le Whif Chocolate and Coffee Inhalers
Le Whif Coffee and Chocolate Inhalers: Cool or Not?
Back in April, we caught wind of Le Whif, a chocolate inhaler that is supposed to satisfy chocolate cravings without the calories. First, pick one of three flavors — pure chocolate, raspberry chocolate, or mint chocolate — puff on the lipstick-size inhaler, and a small deposit of chocolate sprinkles onto your tongue through the mouthpiece.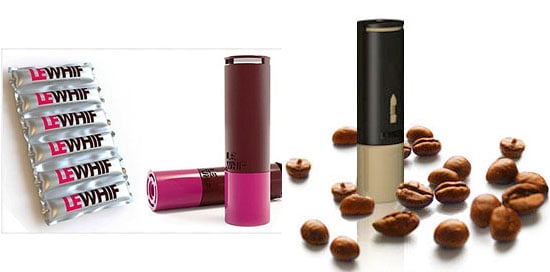 Le Whif must be doing OK for itself because it's just launched a coffee inhaler ($3) — same concept except with coffee. One puff gives you 100 mg of caffeine, which is the same amount you get from one cup of instant coffee.
If you give into latte and candy bar cravings all the time, this may be your product. Personally, I'd rather give myself the treat of a small indulgence every now and again. I'm also worried that puffing on a coffee inhaler might leave me bouncing all over the walls. How about you?