Learn to Love: Cauliflower
When I learned that antioxidants, the healthy nutrients that help clean up free radical and possibly carcinogenic cells, add color to fruits and veggies, I assumed that cauliflower really had nothing going for it. I was wrong. The pale cousin to broccoli, cauliflower actually has a lot going on in both in terms of nutrition and taste. First off, cauliflower is in season from December to March, so it should be easy to find a nice head of it at your grocery store right now. Plus, seasonal produce tends to be less expensive, which is a bonus in these crazy economic times.
Secondly, one cup of cauliflower contains 91 percent the recommended daily intake (RDI) of vitamin C. That is nothing to scoff at, especially if you don't enjoy drinking OJ. One cup also contains over three grams of fiber.
Cauliflower is considered a cruciferous vegetable, placing it in the same family as broccoli and kale. Cruciferous veggies may help prevent cancer, and they are known to reduce the risk of lung, colon, breast, ovarian, and bladder cancers. This class of veggies, cauliflower included, also benefit the liver and the cardiovascular system. The reasons to love cauliflower are plentiful!
Not sure how to cook it? See my new favorite way to prepare cauliflower when you
.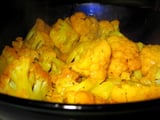 Ingredients
1 large head of cauliflower
2/3 cup low sodium chicken or vegetable broth
1 teaspoon turmeric
1 tablespoon extra virgin olive oil
1 tablespoon lemon juice
2 medium cloves garlic, pressed or finely chopped
sea salt and pepper to taste
Directions
Heat broth in a stainless steel skillet on medium heat.
When broth begins to steam, stir in tumeric then add cauliflower. Toss cauliflower in spiced brother, cver and cook 7 to 10 minutes.
While cauliflower steam, whisk dressing large bowl.
Transfer cooked cauliflower to bowl with dressing, and let sit for three minutes. This mellows the garlic by cooking it for just a bit. Toss the cauliflower with dressing and serve.
Dress the dish up with a little chopped cilantro if you have any on hand.
Serves 4
Information
Category

Side Dishes

Cuisine

Mediterranean/Middle Eastern