Learn to Love: Pink Grapefruit
In my mind, nothing beats the tang of a pink grapefruit in the morning. Considered a classic diet food, it has been much abused by the weight loss industry — remember the Grapefruit Diet? This is no reason to ignore this healthy citrus fruit. Learn why you should learn to love grapefruit of the pink variety.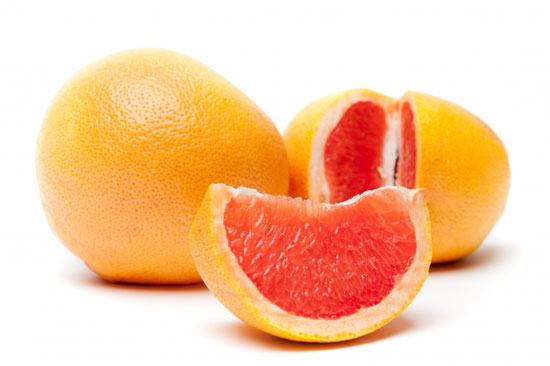 Both varieties of grapefruit are low in calories. A serving of the pink fruit contains only 65 calories and two grams of fiber. Grapefruit is also high in vitamin C, offering 48 milligrams in one serving. Plus it is in season now.
Not only does pink grapefruit contain the hard-to-come-by antioxidant lycopene, the citrus fruit also contains a broad range of other antioxidants. Lycopene might have anti-tumor properties and is a powerful enemy of free radicals, which cause cell damage, so it's definitely a micronutrient you want to include in your diet.
Research found that eating half a grapefruit before every meal can lead to greater weight loss in dieters. While I might not be able to eat the fruit before every meal, eating some before breakfast seems highly doable. Not only that, but the scent of grapefruit oil has been found to reduce the appetite. Researchers speculate the oil's smell has an effect on liver enzymes, which help nix cravings and spur weight loss.
Grapefruit is not just for breakfast anymore. Add sections of the fruit to salads, like this jerk-grilled chicken with arugula salad. It pairs nicely with avocado too.The tangy fruit also makes for a great dessert in a grapefruit sabayon gratin.
Love it or hate it, tell me how you feel about pink grapefruit in the comment section below.