If you're working on getting more protein in your diet, but are concerned about getting too much cholesterol and saturated fat from beef, then tempeh is a great alternative. It has a much firmer consistency than tofu, so many people think it looks and feels more like meat.

Why should you love tempeh? Take a look at the nutritional info:



| | |
| --- | --- |
| Serving Size | 4 ounces (half the package) |
| Calories | 250 |
| Total Fat | 10g |
| Saturated Fat | 1.5g |
| Cholesterol | 0mg |
| Sodium | 60mg |
| Carbs | 17g |
| Fiber | 14g |
| Sugar | 0g |
| Protein | 22g |
Check out all that protein and fiber! I'm amazed one serving has that much. Tempeh is great because you can flavor it anyway you want.
Not sure how to cook it? To check out my easy recipe for bell peppers and tempeh
.


What you need:
1 package of tempeh
3 peppers (1 red, 1 orange, 1 yellow)
tamari (soy sauce)
2 cloves of garlic, minced
cumin
thyme
honey
olive oil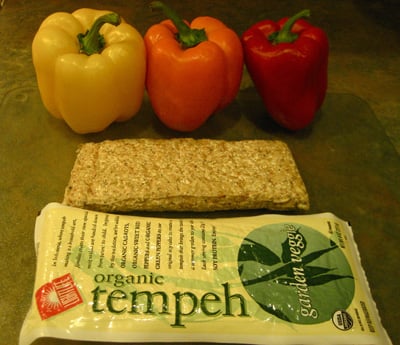 What you do:


Cut the tempeh up in little cubes. Place them in a pan with 1 tbsp olive oil on low heat.

Pour on tamari, enough to turn each piece a dark brown color.

Drizzle a drop of honey on each piece of tempeh, then sprinkle with cumin and thyme.

Stir it all up and let it cook on low heat for about ten minutes.

While that's cooking, cut up all three peppers.

Add the sliced peppers and minced garlic to the pan and let them cook next to the tempeh for about five minutes.

Now mix the two together and let cook for another five minutes.

Serve hot and enjoy.