Lemon Drink Recipes For Summer
3 Cooling Drinks That Harness the Power of Lemon
We love lemon around here: the little citrus fruit does everything, from regulating your digestive tract (hello, flat belly!) to flushing out toxins. Lemons also have antibacterial, antiseptic, and cancer-fighting properties (among others — see all the reasons we call lemon a superfood). So what better way to cool down than with a few lemony drinks to ward off that Summer heat? Here are three refreshing drinks that'll do just that.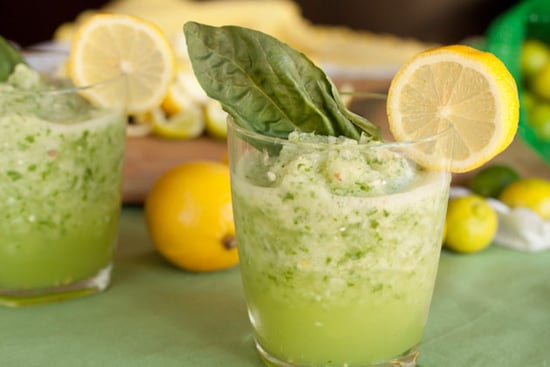 This delicious-looking basil lemon limeade slushy from Healthful Pursuit has a few things going for it. Besides the hit of healthful citrus, the basil adds antioxidant properties.
Need more lemon? Get two more cooling drinks after the break!
If you're looking to detox and debloat, then there's nothing like a refreshing green juice to help you feel energized and ready to beat the heat. Try our antioxidant-rich, immune-boosting green juice recipe the next time you need a Summer pick-me-up; the lemon adds a brightness to the juice without making it too tart or bitter.
The alcohol in YumSugar's recipe for a limoncello sparkler cocktail may override lemon's liver-detoxifying properties, but if you're in need of a Summer cocktail, then this one's a good choice; it clocks in at only 163 calories and takes advantage of fresh orange and lemon juice to quench your thirst.