Lessons of Motherhood
Mom-Me Time: The Winner, in the Long Run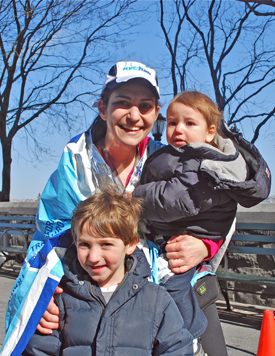 Like lots of moms, I'm very good at extolling the benefits of me time. Studies have shown that when moms take time for themselves, they feel better about themselves, are better parents to their kids, and are better partners to their spouses. But actually scheduling time for ourselves – between work, school runs, doctor's appointments, team practices, etc. – is easier said than done.
Sometime last December I decided I was ready to spend a little time on bettering myself. I'd spent so much time helping my two young tots achieve their goals that mine had slipped to the bottom of the to-do list. Don't get me wrong, I love helping my lil ones work toward a goal – be it taking their first steps and completing the newest section of a Lego set – but before kids, I had a list of goals for myself and I decided to revisit it.
Though I'd never run more than a 10K race (and that was way before I had kids), on a whim, I registered for the NYC Half Marathon – a 13.2-mile race through heart of the city I call home. Without much time to train during the week, my older son and I headed to the gym each weekend. I would drop him off with his friends at babysitting, get my run in, and head home to a weekend filled with typical kiddie activities. My tyke knew I was exercising downstairs, but that was about it.
Keep reading to see who the real winner of the race was.
The date glared at me from my calendar for three months and I bounced back and forth between doing it and dropping out. It was during this time that my son became more enamored with several professional sports teams and the concept of winning. He could speak for days about the sheer strength of the players and their athletic prowess. As race day approached, and my practice miles accumulated, I decided I would give it a go – I wanted to show my son that people other than professional athletes could be strong and powerful, even his own mom.
Like most 5-year-olds, my son's first question was if I would win. I explained that my goal was simply to finish the race, but he didn't seem to listen, his only concern was with who would take first place. On race day, I slipped out before dawn and took my place among the 10,000 runners in Central Park. Slowly, but steadily I made my way around the park, through Times Square, and toward the downtown finish line. When I crossed the line, I was beaming – goal accomplished! But when I saw my boys, and my son leaned in to give me a hug I saw a look of sheer pride in his eyes. Along with congratulations my son told me it was OK that I didn't win, that I ran "really, really far and super fast!" My smile grew even larger, knowing that we both accomplished something that day. And then he added in the zinger, "And look, there are still lots of people behind you – so you beat them!"