Let Pilates Move You: Bridge with a Kick
This Pilates move will work your backside, toning your hamstrings and glutes. Lie on your back with your arms resting by your sides and your knees bent and heels in line with your sits bones (yep, those bones that you feel on your bottom when you're sitting). Using your legs press your pelvis up into a bridge. But go only as far as you can so you still see your knees - so not as far up as the bridge pose in yoga (see photo of "wrong move" below). Engage your core, feeling the abdominals and the back muscles sandwich the spine. Use these muscles to keep your pelvis as steady as possible while doing the following exercise. No rocking and rolling. I always say - it's not really Pilates if you are not working your deep abs.
Press your right heel into the floor to feel your right hamstrings and right booty working. Reach your left leg toward the ceiling and flex your foot (pull your toe toward your head). To continue this exercise
On an exhale slowly lower your left leg until it is even with your right knee. Really reach through your heel. Taking about 4 slow counts to lower the leg.
Inhale and point the toes of your left foot and quickly bring the left leg up. Repeat 3 - 5 more times then switch legs.
If this seems a bit daunting, just practice the bridge part of the exercise - pressing the pelvis up and lowering the pelvis with control. If your hamstrings are cramping, give them a gentle stretch and focus on your glutes working to spread the work out.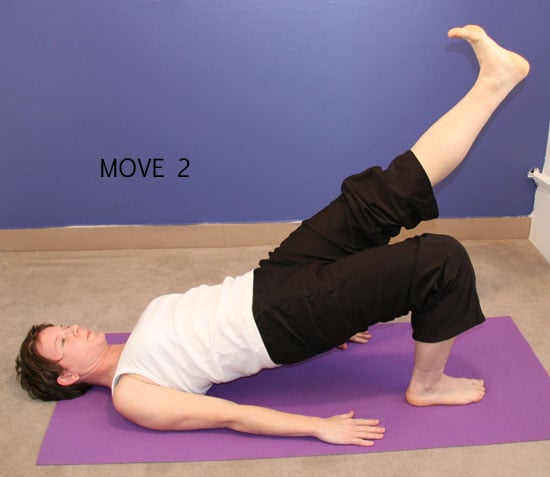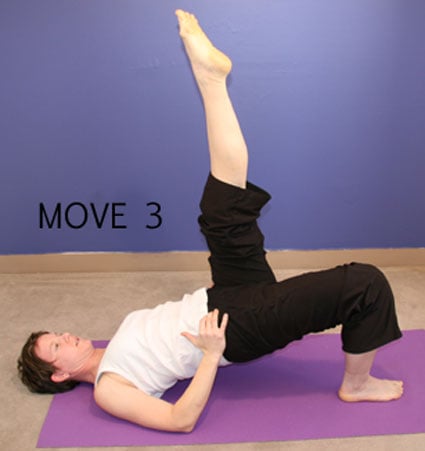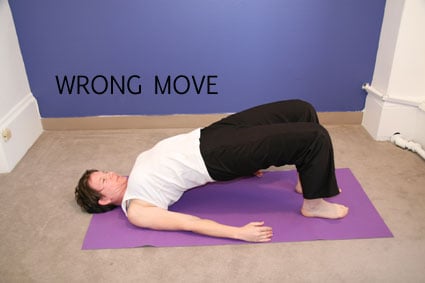 To see how not to do this exercise