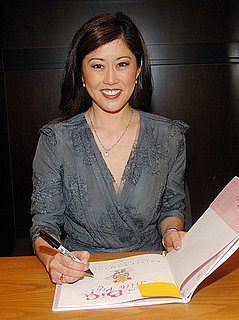 This sponsored post was written by Olympic skater Kristi Yamaguchi.
Like most other kids, I tried my hand at a lot of extracurricular activities before finding my niche. From basketball to baton twirling, you name it; I tried it. I was lucky enough to find my passion when I first stepped into an ice rink at age 6. From that point on, I spent years learning physically demanding jumps, spins, and perfecting my technique, but triple axels aside, I also learned some fundamentals that have stayed with me long after I hung up my skates.
Give 'em a show. In figure skating, a great smile and eye contact with the judges can mean the difference between a forgettable performance and a memorable one. In everyday life, putting on a smile and making eye contact with others helps convey confidence and might take you further than you might think. Do it even when you're not feeling your best, and it just might change your attitude.
Find your balance. Being able to balance yourself on nothing more than two thin blades is no easy feat – and neither is balancing your work and personal life. It took a bit of trial and error for me to find the right balance between my time at the rink and my time with friends and family. However, once I did, I felt the difference it made not only in my life but in theirs as well. Start by keeping a calendar nearby or even on your smartphone.  When making plans, be sure to jot them down, and leave enough room for plans that start before and after. This way, you won't be stretched too thin and you can fully enjoy your plans without rushing or worrying about what's next.
That's not all! Keep reading for some more helpful tips.
Play well with others. Whether working toward a gold medal or making sure my family is happy and healthy, I'm constantly working with others to accomplish a goal. Knowing how to work well with the people around you will translate to success. I always say, "Treat others how you would want to be treated."  It's an oldie, but goodie. I just remember that we are all working toward a common goal. Communication and patience are key!
Be proactive about your health. As an athlete, and now mother and author, I have a demanding schedule that requires me to be at the top of my game all the time. That can be hard when your health is out of balance, which is why I make sure I get an annual physical, eat well, and take a probiotic supplement like Align to help with my digestive health. (Check out the poll questions on FitSugar to receive a free sample!).  When I'm healthy, my family is happy.
Commit. There were many bumps along the road for me in my figure skating career, and I have no doubt that there are more ahead in my career as an author, mother, and wife. When you're faced with a challenge, it's important to keep your end goal in mind and keep going. No matter how tempting it may be to give up, I've learned the payoff is well worth the effort, especially when you're doing something you love!  Also, share your goals with others. Having a strong support system who can cheer you on when things get tough is invaluable.
Email us at freesamples@sugarinc.com to receive a free sample of Align probiotic!