Life Lessons Learned From Rock Climbing
Life Lessons I've Learned From Rock Climbing
I had no idea that when I started rock climbing a few years ago that it would impact my life the way it does today. Besides being the number one way I stay in shape, it's taken me to some of the most beautiful places in the country and introduced me to people I would have never met otherwise. And, most importantly, it's taught me things that I apply to my everyday life. Rock climber or not, some of the core principles of the sport are valuable lessons that anyone can benefit from.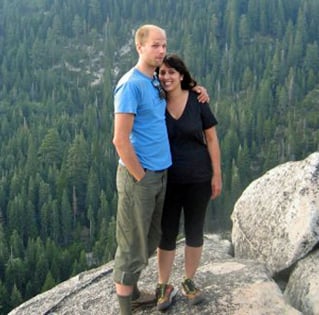 Don't let go. When I first started climbing, I lacked cojones. If a climb seemed out of my reach, I let go and gave up instantly — not anymore. I've learned that in order to succeed, letting go is not an option; fear and feelings of inadequacy are totally normal in anything new or challenging. And while I may fall in my attempt to get better, I never let go.
Trust your partner. Your climbing partner can be the difference between life and death — literally. Things fall apart when you start losing your cool with one another, and thrive when you genuinely have each other's best interest at heart. My climbing partner (see picture) does whatever is needed to make sure I succeed. This means a ton of encouragement, clear communication, constructive criticism, and watching out for my safety. Just like real life relationships, no?
If you don't succeed at first, try a new approach. In climbing, there's usually more than one way to make it to the top — and what works for one person, might not work for another. For times when you feel like you've tried everything to make something work, get creative and start thinking outside of the box. And, don't ever be afraid to ask for help. I can't even count the number of climbs I've finished because my partner helped guide me along the way, or because I looked at the problem in a new way.
There's more! To find out what else I've learned, keep reading.
Don't let fear get the best of you. Climbing up the face of a rock, hundreds of feet into the air, let's be real, it can feel scary — but only if you let it. I like a little bit of fear, it makes for a good adrenaline rush, and it's a good indicator of whether or not I am doing something really stupid. But it's important to not let fear overcome you to the point that you give up, or worse, don't try. The best climbs I've been on are the ones that I was in control of, and not controlled by fear.
It's not always about making it to the top. OK, so in rock climbing, making it to the top is important, but how you get there counts for a lot. I don't always make it to the top at first go. Completing a route may take a few tries, and depending on the difficulty, maybe months — even years. I know people who go back to the same route over and over again, and each time they get a little farther. And that's the point. Climbing, like life, is a small series of goals and individual problems that enable you to get to your final destination.