Light Dessert Recipe: Meringue Sorbet Torte
Make It: Meringue Torte
Baking is one of my favorite pasttimes, and I just entered the realm of meringues. With meringue, you either love it or leave it and my girls love it. I tried this simple dessert recently and was quite pleased with the results. It was interesting to see which dinner guests ate the sorbet and which ate the meringue; my family certainly ate both. After taking a vote, I decided to only cover half the torte with almonds and this decision pleased the five and under set. This is a wonderfully light dessert. You might just want to make it for your mother for her big day.
To see the recipe just
.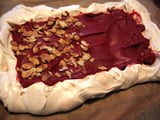 Ingredients
3 large egg whites
1/4 teaspoon cream of tartar
1/4 teaspoon salt
3/4 cup plus 2 tablespoons sugar
1 tablespoon cornstarch
1 1/2 teaspoons white or cider vinegar
1 teaspoon vanilla extract
1 pint sorbet (softened)
toasted sliced almonds, or fresh fruit
Directions
Preheat oven to 225 degrees. Line a baking sheet with parchment paper, set aside. With an electric mixer beat egg whites, cream of tartar, and salt in a large bowl until soft peaks form.
With mixer running, add 3/4 cup sugar, 1 tablespoon at a time, beating until stiff peaks form.

In a small bowl, stir together remaining 2 tablespoons sugar and the corn starch; beat into egg-white mixture. Beat in vinegar and vanilla.
Drop dollops of mixture ina line down center of prepared baking sheet.

With a flexible spatula or a wet spoon, spread into a 6 by 14 inch rectangle. Make a 1 inch deep well down the center, leaving a 1 inch thick boarder around edges.

Bake 2 hours; turn off oven, and let stand (in oven) for 2 hours or up to overnight.

Serves 6 to 8.
Without almonds, this dessert has zero grams of fat. Each serving is around 200 calories.
Information
Category

Desserts

Cuisine

French
Try it and let me know what you think.