Light Spring Workout Jackets
Light as a Feather: 3 Must-Have Spring Fitness Jackets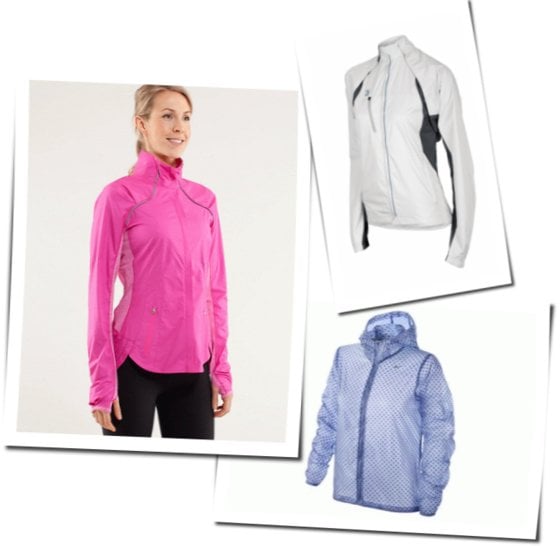 The ever-changing Spring weather can make it difficult to dress appropriately — at the beginning of your outdoor workout, it might be chilly and wet, yet in an instant the clouds could part to reveal a sunny, hot, and sticky day. It's important to be prepared for whatever climate you are exposed to during your training session, that way you aren't tempted to turn around and head inside before you've completed your targeted mileage. These three beautiful, Spring-inspired training jackets will help protect you from the elements, so find out what makes them special.
From left to right:
Lululemon Run: Essential Jacket II in Paris Pink ($138): For insulation and breathability, the jacket includes a mix of windbreaker material, breathable, mesh-like cloth down the backside, and stretchy fabric under the arms for a wider range of motion. Earbud fanatics will love the little hole in the inside of the jacket created exclusively to slide your headphones through, so the zipped-up jacket will keep the cords from jangling in your face while you run.
Cannondale Women's Morphis Jacket in White ($110): The fitted, wind- and water-resistant cycling jacket contains removable magnetized sleeves, so if you get too hot during a ride, you can quickly rip off the long sleeves, stash them in the back pocket, and turn the jacket into a vest.
Nike Cyclone Vapor Women's Running Jacket in Light Thistle/Reflective Silver ($115): Textured dots on the inside of the jacket prevent clinging to facilitate a more breathable, drier environment for your skin. It's water resistant, but if you become overheated, the jacket has a built-in pocket in the back so you can easily store it.