Lindsey Vonn Talks About Working With Husband Thomas Vonn
Olympic Skier Lindsey Vonn on Life and Love With Her Coach
Just in time for Valentine's Day is Fitness Magazine's interview with Olympic gold medalist Lindsey Vonn. Besides talking about what her diet and workout schedule is, Lindsey gave the mag a peek at what it's like to be married to fellow Olympian and former US Ski Team athlete Thomas Vonn. If you watched the Winter Olympics last year, then you already know that Thomas was by Lindsey's side the entire way — not only is Thomas Lindsey's husband, but he also serves as her coach and adviser — in more ways than one.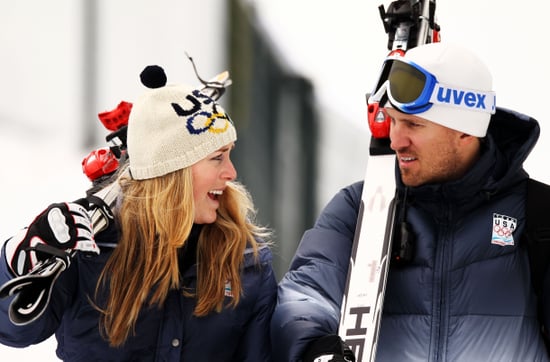 On having any rivalry: "No! We're each other's biggest cheerleaders. He supports me 100 percent. We're opposites that attract; every cliche you can think of is true when it comes to us. I'm the emotional, spontaneous one who listens to my heart, and he's logical and focuses on the details."
On going to Thomas for advice: "I ask his opinion about everything. On the mountain, I ask, 'Am I doing this correctly? Was that run good?' I'll also ask him, 'Do you like this dress for the red-carpet event? Do you like my hair?' He's always right. Even if there's something I think is supertrendy and cute, he'll say, 'I wouldn't do that if I were you.' He's a pretty good stylist."
On working out together: "Thomas doesn't want to work out with me ever. We're too competitive. If we're side by side on the treadmill, I'll be checking his speed. I can't help myself. He's like, 'What are you doing?' I say, 'I'm going faster than you!'"