Lindy Hop Dance Exercise Tips
Burn Calories Doing the Heart-Pumping Lindy Hop Dance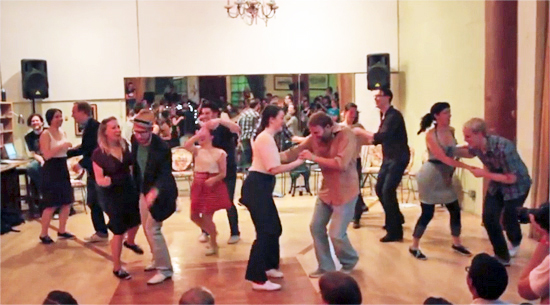 Lindy Hop is a type of swing dance that was popularized in Harlem during the '20s and '30s to syncopated rhythms from musicians like Lionel Hampton or Glenn Miller. It's a cross between the Charleston and jazz dance and includes fast spins and flexed foot steps. If you've never done partner dancing, Lindy Hop is a great genre to learn because the steps are fairly easy, even for the least coordinated person.
The triplet steps will tone your calves, and the fast pace will set your heart racing. Lindy Hop is so invigorating, you will spend hours dancing without noticing that you're burning hundreds of calories. If you're lucky, you'll find a studio that turns into a social dance at the end of the night, featuring a live band, so you can practice you're newly acquired dance skills with more experienced dancers. No need to feel self-conscious; here are some important things to know before you start taking Lindy Hop lessons.
See our Lindy Hop tips.
Wear comfortable, flat, closed-toed shoes. Flip flops and high heels will not work for Lindy Hop. You are constantly flexing your feet in the air or dancing on the balls of your feet.
Be a considerate dancer. Check your surroundings, and make sure you have enough room for your spins, so you don't run into another couple. Introduce yourself to every dance partner. Be patient and helpful if the moves are difficult for them. Kindly thank them after you are through.
If you are a follower: follow. If you are a leader: lead. This was probably my hardest lesson to learn. As a follower, you have to stay loose and trust your partner to take you where they want you to go. It helps to have some tension in your hands and keep your elbows close to your body, so the leader will have more control.
Laugh at your mistakes. It's bound to happen that you trip or forget a step. Don't take it too seriously. Laugh it off, and try again.
Practice makes perfect. Download some jazzy beats and practice at home. Also, find bars that have Lindy Hop or swing social dance nights. The more partners you dance with, the more steps and skills you will acquire.
Source: Lindy Hop