Living Gluten-Free on a Budget
How to Live Gluten-Free on a Budget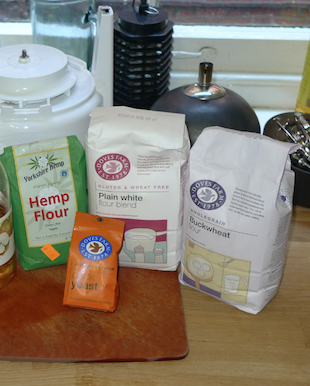 Learning that you have an allergy or sensitivity to products containing gluten — anything containing wheat, barley, or rye — can be stressful in and of itself, let alone trying to find the extra funds to support your new diet. If you've given up gluten, you've probably noticed after trips to any health food specialty stores that gluten-free food items are not cheap. Even though it's estimated that one in every 133 Americans is afflicted with celiac disease (that's roughly 2.8 million people), premade gluten-free foods are significantly more money than their gluten-filled counterparts. Which is why I've come up with some tips for how to live gluten-free without breaking the bank.
Buy the Basics: Rather than get caught up with all of the shiny, expensive new gluten-free items your local grocery store has started stocking its shelves with, stick to the basics. Vegetables, fruits, fish, meats, brown rice, potatoes, corn, quinoa, and nuts are all gluten-free, so try getting creative with foods that are gluten-free to begin with.
Keep reading for more tips.
Buy in Bulk: If you're able to buy dry gluten-free goods in bulk like canned goods or cereals — bonus. If you're able to buy these items on sale — double bonus. If you see gluten-free pastas for a good price, scoop up a bunch, since it's always good to stockpile g-free pasta. You can even go online and check out sites like Abe's Market or Amazon, where you can buy items in large quantities at a discounted price.
Make Your Own Baked Goods: The price of gluten-free baked goods like breads, muffins, cupcakes, pie crusts, and pizza dough can make your head spin. If you're able to invest in a bread maker, you will save a ton of money making your own bread. And with a little practice and some g-free baking essentials, you can whip up your own cupcakes, cookies, and muffins in no time — at a fraction of what it would cost you to get them from the store.
Source: Flickr User Ben30