Lo Bosworth Fitness and Exercise Routine: Spin, Kettlebells, and Yoga
Lo Bosworth Gives the "Lo Down" on Her Fitness Routine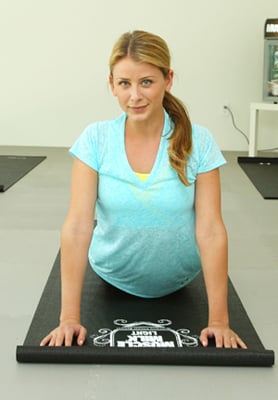 For Lo Bosworth, life after The Hills meant working on an upcoming book on dating advice, and starting her own website — The Lo Down. This month, Lo gave readers a peek into what her fitness schedule is like. Given that she's always talked about fitness being a big part of her life, I wasn't surprised to find out that she works out at least five times a week. And since the Summer is full of "beach barbecues and bathing suits," the reality star makes a point to hit the gym regularly. Check out her workout schedule here:
Spin (50 minutes, two to three times a week): Lo has often talked about her love of spinning, even if her BFF Lauren Conrad is not a fan. Lo says that she appreciates the instructor's "drill-sergeant commands and the loud, pumping jams . . . I burn roughly 500 calories in a 50-minute class."
Kettlebells (30 minutes, two times a week): Although Lo pencils in a kettlebell workout two times a week, she says it's probably more likely she'll only make it to one. "I hate his class, but it does make my butt less jiggly so I go. It's hardcore strength training: you lift your kettlebell weight at the same time as you lunge, squat or dance around. It's hard. After my very first class I couldn't move for about a week."
Yoga (60 minutes, one time a week): Yoga is another class she dislikes, but still goes to in order to get the benefits. But having a workout partner to go to class with makes things easier for Lo — especially since it's her sister!