Long Distance Running Tips For Beginners
Tips For Tackling Long Runs
Many people sign up for races and marathons in the Summer, so Spring is the time to be training for them. If you're not used to running longer than three or four miles, here are some tips to help tackle longer distances.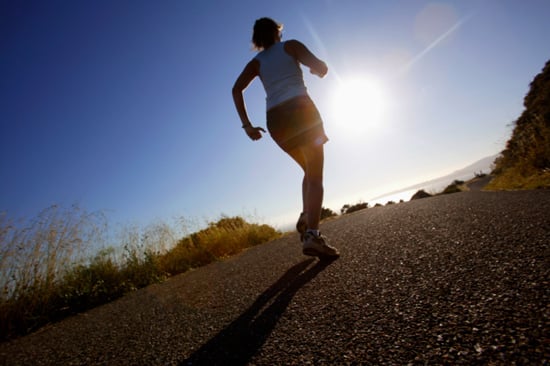 Don't skimp on gear. Splurge on good wicking socks to prevent blisters, a durable and comfortable pair of sneaks, wicking clothes that are seamless to prevent irritation and chaffing, and a supportive sports bra. Good gear is so worth the extra dough.
Follow the 10 percent rule. The rule states: never increase your weekly mileage by more than 10 percent from the previous week. This means you want to gradually work up to that 18-mile run you have in your training schedule, rather than jumping right into it.
Slow down your pace. You may be used to running eight-minute miles when you run the three-mile loop in your neighborhood, but it'll be hard to keep up that pace when taking on a 10-mile run. As your body gets used to the increase in mileage, you can gradually begin to increase your speed.
Don't be afraid to take walking breaks. Longer distances mean you're on your feet for longer periods of time, so you'll notice your muscles becoming fatigued. Continuing to run with a tired body can lead to muscle damage or another injury. Allow your body time to build up endurance and have some time to recover by including short walking breaks at regular intervals.
Stay hydrated. During your run, sip eight ounces of fluid every 20 minutes. Plain water is fine if you're running an hour or less. If your run is longer, you'll need to replenish lost electrolytes, so drink Smartwater or make your own sports drink with Nuun tablets.
Consume quick carbs every hour. Aim for 30 to 60 grams of carbs every 60 minutes. Gu or Luna Sport Moons are great options.
Figure out what motivates you to keep going. When your mind begins to think about nothing but stopping, you'll need a way to inspire your legs to keep on moving. Running outside in a gorgeous setting, listening to a new CD, tracking your run with a heart rate monitor or iPhone app, or running with a buddy may give you the push you need to reach your goal.
Reward your efforts. Once you reach your goal, honor your efforts with a massage, pedicure, haircut, a new CD or running shorts, a sweet treat (something reasonable that won't undo all the good you did), or a night out with your favorite people. It may help to have the reward in mind before beginning your long run, so it can motivate you to keep on going.