Look Style Pedal System Explained
Definition: Look Style Cleat/Pedal System
Biking is a gear-heavy sport, all the way down to the shoes. Cyclists, depending on the type of biking they do, have different preferences for the type of cleat and pedal system they use. Whether mountain biking or road biking, clipless pedals make the experience better. The jargon is odd too, since you "clip in," or rather snap the cleat into the pedal. Riding "clipped in" makes you more efficient since your foot is essentially attached to the pedal. We're talking more direct power transfer from foot to pedal to gears to wheels.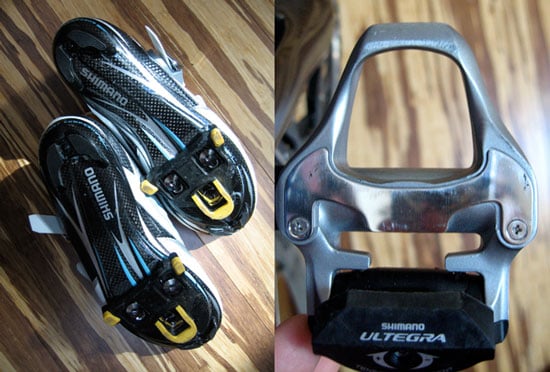 In the 1980s, the French company Look created a "step in" pedal, borrowing technology used for ski bindings, to replace the clumsy toe cages on pedals, often referred to as clips (hence the term "clipless pedals" when riding with a cleat/pedal system). A large triangular piece of plastic, the cleat, is screwed into the bottom of a stiff-soled cycling shoe. The cleat locks into a triangular shaped pedal and to disengage the cleat from the pedal, you twist your heel outward. The cleat is large and protrudes from the bottom of the shoe making it difficult to walk, but the large cleat means you have more contact with the pedal. The large platform is more comfortable on the foot and makes "dancing on the pedals" (my fave expression for riding while standing) more stable. Plus the broader connection to the pedal, through the larger cleat and stiffer shoe, means less energy is wasted bending the shoe with your pedal stroke. All that power goes directly toward moving the crank to move the bike.
Read up on SPD cleats, designed for mountain biking here.