Low-Calorie Black Bean Soup Recipe
Healthy Recipe: Low-Calorie Black Bean Soup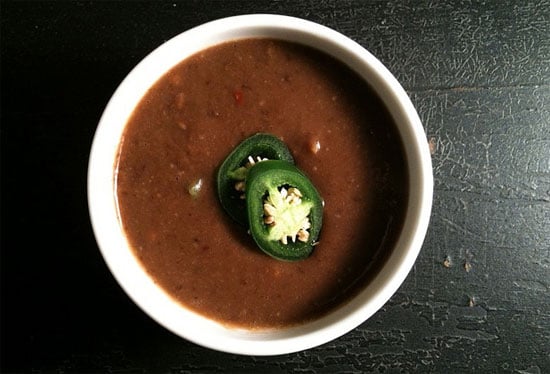 Black beans are versatile little legumes. Served up as a side dish to a heart healthy meal or part of a cheesy and greasy plate of Mexican enchiladas . . . I love the little guys. But perhaps the recipe I find most delectable (and healthy!) is a tangy bowl of black bean soup. Add a bit of broth, a few veggies, and some seasoning, and you've got yourself a low calorie yet protein packed stew of nutrition that is sure to fill the belly and leave a smile on your face.
Want to check out the beany-licious recipe?
Low Calorie Black Bean Soup
Original Recipe
Ingredients
1 (15 ounce) can black beans, rinsed and drained
2 cups chicken broth (substitute vegetable for vegetarians)
1 cup cherry tomatoes
1 bunch green onions
1/2 bunch cilantro
1 teaspoon ground cumin
1 teaspoon garlic salt
1/2 lime
Salt and pepper to taste
Directions
1. Drain and rinse 3/4 of the black beans.
2. Place rinsed beans in a blender along with cilantro, chicken broth, tomatoes, green onions, cumin, garlic salt, and lime juice. Pulse for a smooth texture. Add salt and pepper to taste.
3. Pour the soup into a large pot and add the rest of the beans into the mix. Heat up and serve.
4. Garnish with cilantro, a diced green onion, or get spicy with a jalapeño!
Information
Category

Soups/Stews

Cuisine

North American
If you want to add some kick to the mix, try blending the jalapeños into the blender instead of just using them as a garnish. And, if you need to lower the sodium level, try using water instead of chicken broth.
Nutritional information per serving (makes 4) : 89 calories, 7 g protein, 14 g carbohydrates, 5 g fiber, 0.3 g sat fat, 0 mg cholesterol, 622 mg sodium